Koos Sas: Last Bushman of Montagu
Published:

Friday, July 24, 2009 7:45 AM

| Review by:

Chloe Thomas

|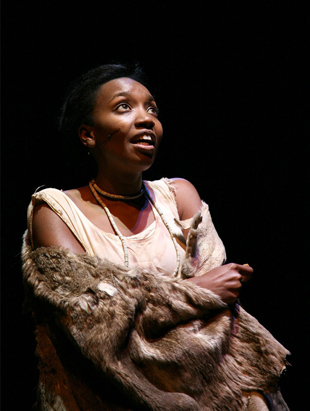 Koos Sas the last bushman of Montagu is the musical from writer and director David Kramer who has a strong affiliation with the Tricycle theatre after "Kat and the Kings" premiered there in 1997 later transferring to the West End. His latest offering is a worthwhile attempt to shed light on many of the unspoken truths about South African history.
Koos Sas (Loukman Adams) bounces into the space. He is a troublesome bushman running rings round the authorities in the early part of the twentieth century. His love of mutton means he steals sheep and is so fast "he can outrun a horse" and Kramer paints a portrait of a sort of gingerbread man tearing around and outwitting those in power.

There is an interesting juxtaposition of hero and villain, to the colonialists he is a common thief and a downright nuisance that won't be put down. But amongst his people who appear in the form of his trusty sidekick and clown- like character Hendrick Skilpad (jody Abrahams) and his loyal sweetheart Lenie (Natalie Cervati), he is a hero whose energy can never be suppressed. In this world the men and women of the bush are the servants to a white ruling class who drain them physically and emotionally of their natural resources.

Perhaps Koo's constant meddling can be seen as his way of reclaiming a piece of Africa for himself and his people. When a white shopkeeper is murdered Koos, the everlasting trouble maker is blamed by the authorities and becomes a fugitive where he is finally defeated by his arch enemy, the brusque and burley constable Jurie Dreyer( Robert Koen).
David Kramer's play is littered with interesting anthropological ideas, such as the colonial obsession with bushman bones. The acquiring of a "savage" skull symbolised the repetitive compartmentalisation of the native people as a trophy of their mission to pacify. The music seemed to be a heady marriage between calypso and Swedish pop which I felt trivialised many of the serious and very valuable themes in the piece. While I could certainly see the importance of performing the play in Africaans with English subtitles so as to capture the raw character of the story, the translation was at times clumsy and weird but strangely compelling. Koos heart is "full like a tin of Jam" and the "moon is like a shoe" this unusual imagery certainly forces you to see the world a bit differently for a moment.
All in all I found the piece rather fascinating and it certainly was beautifully acted with a majestic performance by Loukman Adams as Koos Sas and a precious Natalie Cervati as his lover Lenie.
South Africa is famous for its diamonds. Kramer's latest export is a diamond in the rough, some real polishing could make it sparkle and help to unearth more of South Africa's hidden theatrical gems still buried beneath the layers of historical disquiet.
Info: Koos Sas is on until 1 August, 2009.