Julius Caesar by William Shakespeare, The Courtyard Theatre, Stratford-upon-Avon
Published:

Thursday, July 9, 2009 8:45 AM

| Review by:

Karla Williams

|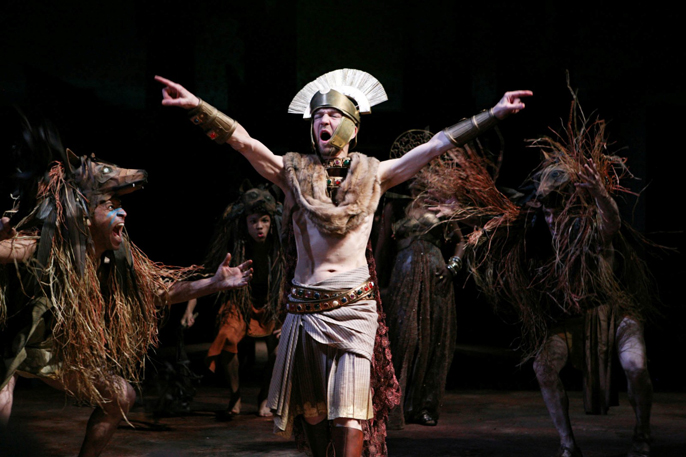 Shakespeare's Julius Caesar tells the story the Caesar (Hicks) who, although refuses the crown from Mark Anthony, is the subject of an assignation plot by Brutus (Troughton) and Cassius. Despite the concerns and prophetic dreams of his wife Calphurnia (Dumezweni) Caesar goes to the Capitol on the Ides of March and is murdered. During his funeral the truth surrounding his death is revealed and the citizens of Rome turn on Brutus and his co-conspirators, forcing them to flee Rome. It is then up to Mark Anthony and Caesar's nephew Octavius to finally seek vengeance for his death as they fight the conspirators in a battle at Philippi.
Being part inspired by the BBC/HBO production Rome, director Lucy Bailey has created a world full of blood and fire which includes fascinating moving images projected on the large back wall of this amazing set. The costumes match the set and the detailed and brilliantly made Roman attire is one of the productions highlights. It is the story itself which is a bit of let down and at times the action feels difficult to follow and the characters hard to engage with. Nevertheless, Hicks does and fantastic job as Caesar with Sam Troughton and John Mackay equalling his performance as Brutus and Cassius respectively.
With blood and guts galore and a running time of three hours, Julius Caesar is not for the faint hearted. But for those with a particularly liking and understanding of this Shakespeare play then this epic production will be an enjoyable addition to the work of the current ensemble.
Cast includes: Tunji Kasim, Greg Hicks, Noma Dumezweni and Sam Troughton.
Info: Julius Caesar is at The Courtyard Theatre, Stratford-upon-Avon in repertoire until 2 October 2009.