Into the Hoods, South Bank Centre
Published:

Monday, January 4, 2010 8:09 PM

| Review by:

Karla Williams

|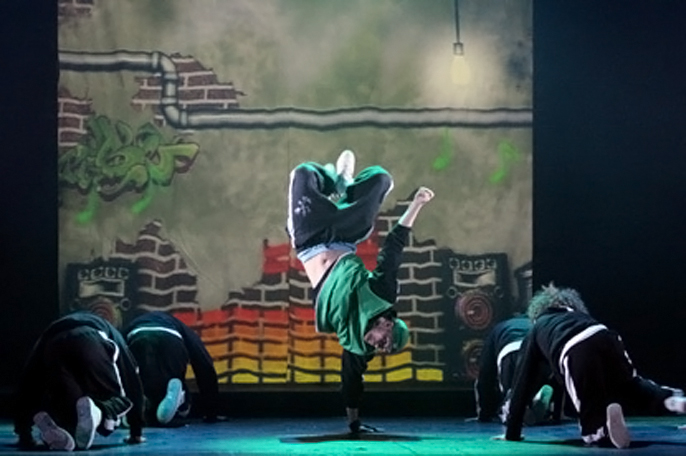 Back in 2007 Zoo Nation's production of Into the Hoods became not only the first ever hip hop dance show to open in the West End but also the longest running, as it took residence at the Novello Theatre for a total of five months. Now it's back and while its location may have changed to the South Bank Centre this ingeniously conceived and brilliantly executed production is just as incredible as when it first hit the stage.
Based upon the Tony Award winning 1986 musical Into the Woods, the production follows two lost children as they enter the hood - otherwise known as Ruff Endz Estate. Upon meeting the landlord of the estate he instructs them that he will give them the bus fare home if they help him collect four items from the estates residences; an iPod as white as milk, a hoodie as red as blood, Nike trainers as shiny as gold and a weave as yellow as corn. The children thus go on an adventure that incorporates a number of popular fairy tales, including Little Red Riding Hood, Cinderella and Rapunzel with each character being given a modern, 'urban' twist. Will the child eventually find their way home and what effects will their involvement have on the people of Ruff Endz Estate?
Into the Hoods is unlike any musical I have seen before which is chiefly down to its unique method which involves a narrator, animation and music in place of dialogue. Characters represent their emotions and feelings with either dance or lyrics, meaning we never actually hear the voices of the performers. An example of this is when Wolf (played brilliantly by Dre Oporia) tries to get Lil Red to sign to his record label Big Teef – which he does while dancing to the track Overnight Celebrity by Twista. This inspired technique is used continuously throughout the production meaning that some hard working technical has spent hours, if not days, splicing hundreds of tracks together to create the musicals superb and seamless narrative. The productions choreography is equally as exceptional as the music/audio and ZooNation founder and Olivier Award nominated director Kate Prince has done a remarkably outstanding job. My favourite scenes are the Old People's Home (utterly hilarious!) and when Jaxx (the DJ who lives in the basement) takes on Giant in a 1970's Kung-Fu style death match.
The dance moves, music and the cleverly created characters are brought to life by a cast of stupendously talented dancers and actors. While it is unfair to single anyone out for their dance moves alone I have to mention Roger Davies as Price, Shaun Niles as the Ugly Step Mother and Dre Oporia as Wolf. These three performers were a total delight to watch and I thank God they've returned after also appearing in the original 2007 production.
Whether you're an experienced theatre buff or can't tell the stalls from the dress circle I urge you to go and see Into the Hoods. With a concept that is not only entertaining but distinctively inventive it is without doubt one of the best productions currently playing on a London stage.
Cast includes: Roger Davies, Shaun Niles, Rowen Hawkins, Sacha Chang, and Dre Oporia
Info: Into the Hoods is at the South Bank Centre until January 10, 2010