Hansel and Gretel at Theatre Royal Stratford East
Written by Hope Messiah
Published:

Tuesday, December 9, 2008

| Review by:

Robert Steele

|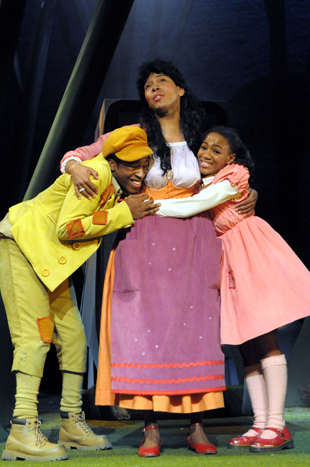 "Ten green bottles standing on the wall" is the first thing you hear as the very believable character Monty Mole sings from a round hole in the stage floor. The crowd instantly warms to this and participates in full voice. Crowd interaction doesn't stop here and like all good pantomimes there's plenty of "oh yes I can's" and" he's behind you's" to keep the audience engaged.
Directed by Dawn Reid this classic children's tale is about a child-eating witch who tries to lure an unsuspecting brother and sister into her clutches and oven! The production included modern parental gripes such as hoodie-wearing teenagers and the work shy mentality of today's youth. Modern day dance included West Indian dance hall moves such as the Bogle and the more recent Willie bounce which caught the audience off guard but were warmly received.
The cast of Hansel (Darren Hart), Gretel (Natalie Best) , father (Tony Timberlake), wicked, wicked witch (Josephine Lloyd Welcome), wolf (Nathan Amzi), yellowbird (Peter Howe), Monty Mole (Susan Lawson-Reynolds), Squire Giles the landlord (Marcus Cunningham) and his daughter Arabella (Gemma Salter) ensure there is plenty of diversity in this production, and each character endears themselves to the audience. The stepmother (played by Marcus Powell, the second time as Theatre Royal Stratford East's dame) armed with a West Indian dialect and plenty of attitude, had the audience in stitches with lines like "no romance without finance".
The rotating stage is cleverly used to effectively change scene with minimal pauses. The props were innovative especially the industrial sized oven that leads to the witches demise as well as the mouth watering beautifully crafted witches house built of imaginary confectionary.
This panto is fun for all the family with humour that everyone can enjoy. This story of sweet houses makes for some tasty viewing especially if you sit near the front. This is a good choice for the holiday season.
---
Related Links
Hansel and Gretel is playing at Theatre Royal Statford East until 17 January 2009