Hairspray the Musical, Shaftesbury Theatre
Published:

Monday, November 16, 2009 8:45 AM

| Review by:

Sophia A Jackson

|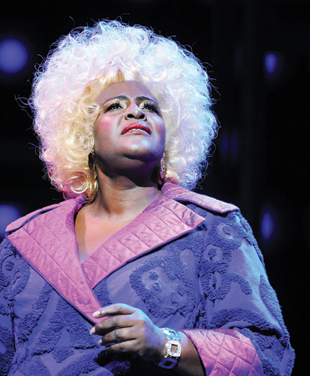 Hairspray the Musical has had a cast make over and now the show includes comedian, broadcaster, writer and actor, Phill Jupitus, who plays Tracy Turnblad's lovable mum, Edna Turnblad. Jupitus is joined by pop icon, Belinda Carlisle playing the villainous white supremacist Velma Von Tussle and television/radio star and singer, Sharon D Clarke stars as Motormouth Mabel, celebrity DJ.
Set in 1962 Baltimore, USA, Hairspray charts the overnight success of teen sweetie, Tracy Turnblad (Chlöe Hart) who has aspirations of becoming a dancer. So much so, she bunks off school to audition for The Corny Collins Show. This is a life-changing decision and with the help of the cool negro kids who teach her a few dance moves and her supportive family - she goes from geek to chic.
It's a time when race music (African-American genres including blues, jazz and gospel) and racism go hand in hand and white parents are discouraging their children from any form of appreciation of music made by black folk. But times are a changing and having bagged the part, Tracy throws her heart and soul into making 'The Corny Collins Show' integrated, exclaiming 'I wish every day could be Negro Day'.
From the costume to the set design, Hairspray has got it going on. The show is brimming with vibrant colours and energy that it's no wonder it just keeps cleaning up awards – the show is an absolute gem. Based on the John Waters film that was originally made in 1988 and then remade in 2007, the show opened in London in 2007 and has already bagged 28 major awards. This is a show for girls, for boys, for friends and for family.
Favourite song: You Can't Stop the Beat
Favourite character: Penny Pingleton
Favourite scene: Phill Jupitus and Tony Timberlake (Mr and Mrs Turnblad) serenading each other and trying to keep their composure whilst in hysterics.
As Seaweed (Adrian Hansel) says, 'You've got to use the blues to lose the blues' and Hairspray has got 'feel good' written all over it. My only gripe is that I would have liked to see more diversity in the audience – it's a show about integration after segregation after all.
---
Related links
Hairspray listings information
ATNews: Sharon D Clarke joins cast of Hairspray
ATN interview with Sharon D Clarke