Ghost Boy, Birmingham Rep
Published:

Monday, March 29, 2010 11:44 AM

| Review by:

Joan Jackson

|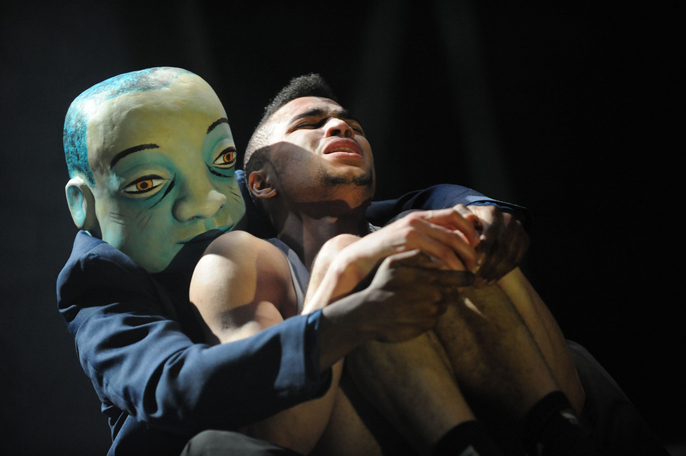 Ghost Boy, written and directed by Keith Saha, is set on a 'sink' estate, ironically named 'The Lemonade Estate', which is plagued by gangs, drug-dealing, violence, anti-social behaviour, poverty and a lack of opportunity.
Ghost Boy tells the story of Jamal (Tachia Newall), a teenage drug dealer and gang leader who is haunted by 'Ghost Boy (Michael)' (Courtney Hayles), a teenager he casually stabbed to death for disrespecting him in front of his 'crew'. On the other side of the estate lives Dennis (Everal A Walsh), an older generation male who is disillusioned with the breakdown in law and order on the estate and the general disintegration of his community and therefore launches a one-man crusade to clean up the estate and improve "inter-generational communication" by transforming himself into a superhero named 'Flyman'. However, following a misunderstanding in a car park Dennis finds himself on the wrong side of the law and is sentenced to several hours' community service.
In the course of his community work transforming the communal areas into pleasant green spaces, Dennis encounters Jamal and the two clash repeatedly initially. However over time as Jamal's paranoia worsens a genuine friendship develops which is threatened by Jamal's revelation which has serious ramifications for both.
Ghost Boy is an innovative piece of theatre which fuses various art forms, which included puppetry, live music, hip-hop, ska and reggae with the general narrative and was very entertaining. However, the production appears somewhat schizophrenic insofar as the serious issues raised, e.g. gang culture and violence are under-explored and appear to be in conflict with the happy-go-lucky songs and ribald humour and it is difficult for the audience to know how to react and what the play is seeking to achieve, i.e. entertain, analyse, inform etc.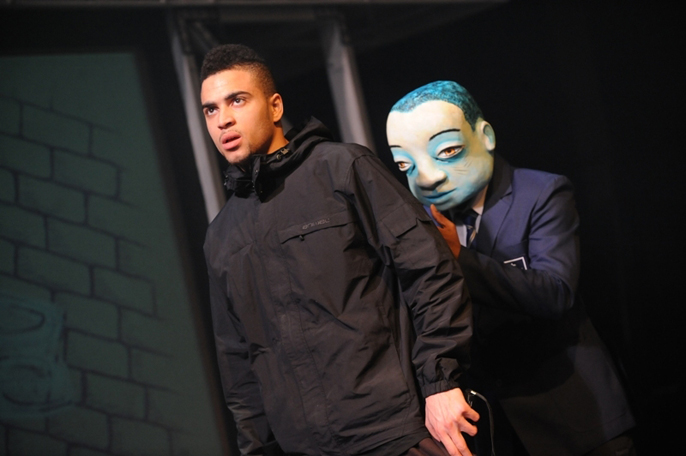 With a couple more characters the play would have had greater depth/complexity and focusing less on the relationship between Dennis and Jamal, which made it a one-dimensional offering with a foregone conclusion.
The performers are all very good but a special mention must go to the beat boxer (The Hobbit) whose sound effects were incredibly realistic, from doors slamming to spliffs being 'sparked up and burnt down' and his collaborations with the Cellist (Hannah Marshall) were fantastic.
---
Related links
Ghost Boy is touring the UK until 24 April, 2010