Fela! on Broadway
Published:

Thursday, November, 26 2009

| Review by:

Monique Needham

|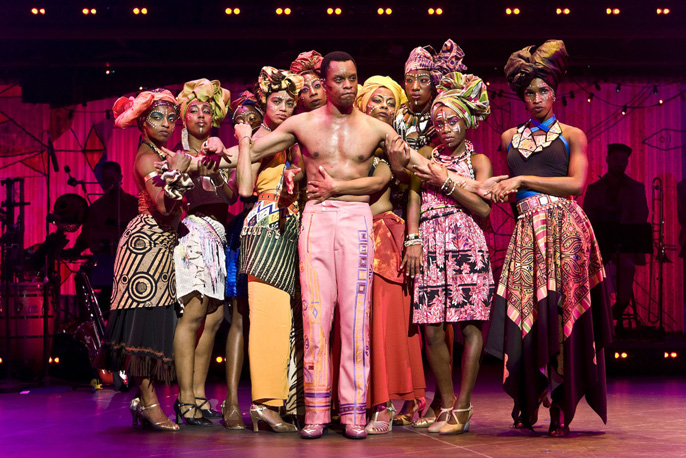 The 'Fela on Broadway' theatre experience is none like you have experienced before. Once you decide to purchase your ticket for the Eugene O'Neil Theater, enter those doors, hand over your ticket be prepared to leave the hustle and bustle of New York's Times Square behind you and be transported to the vibrant, rhythmic, and famous 'The Shrine' in Lagos, Nigeria. The blend of instruments, the bass, the saxophone, the pulsating tempo from the drums, creating that Afrobeat sound will have you tapping your feet and rotating your hips all the way to your seat.

Those fabulous female dancers walk out on to the stage so elegantly with their beautiful head ties and flamboyant Ankara (African print) dresses and finally out comes Fela Kuti with high energy ready to perform for his long awaited audience. Kevin Mambo (who has also appeared in Cadillac Records and Law and Order Criminal Intent) plays Fela for the night and captures the heart and soul of his character personality, energy and demeanor.

This Broadway production has not only attracted those who are familiar with his music but those who are curious to know more about him. This show will educate you about Fela, his music, his life and his political views and stance. After watching this show you will understand why Jay Z, Will Smith and Jada Pinkett-Smith signed up as co-producers.

We experience firsthand how Fela's passion for music and love of his country allowed him to speak on behalf of a nation of unspoken people about the corruption of the Nigerian government. Bill T Jones (the director and choreographer) brought humour juxtaposed with anger and frustration through using music, song and dance to tell this ever so fascinating yet heartbreaking story.

This play is a must see. The only problem is you will not want it to end; you will leave wanting more and more.

Fela! on Broadway is at the Eugene O'Neill Theatre, Broadway, New York until April 4, 2010.
---
Related links
ATN: Fela! on Broadway listings information
ATN: Shawn "Jay-Z" Carter and Will & Jada Pinkett Smith to Present FELA! on Broadway
FELA! on Broadway—Opening Night!
Featuring Jay-Z, Questlove and Spike Lee