review: Magnet Theatre's Every Year, Every Day I am Walking, Oval House Theatre
Published:

Monday, March 1, 2010 9:30AM

| Review by:

Lindsay Johns

|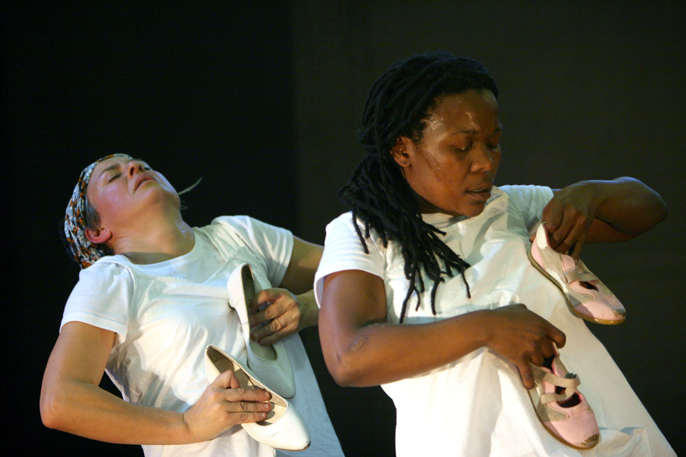 To be honest, physical theatre is not everyone's cup of tea, and I admit to not being well versed in the genre. But this harrowing and yet uplifting meditation on the plight of the refugee in the modern world, direct from the Magnet Theatre in Cape Town and told in a superbly acted, two-handed production, thoroughly deserves the standing ovation with which it was greeted on press night.
Every Year, Every Day tells the story of a mother and daughter who, after their French West-African rural idyll is brutally shattered by militia rebels amidst much internecine slaughter, journey down through Southern African to seek a better life in Cape Town. It is a profoundly moving, challenging piece of theatre, pregnant with raw emotions, and one which functions as a noble and lyrical testament to the power and resilience of the human spirit in the face of crushing adversity.
The double-header works well between black South African Faniswa Yisa and white South African Jennie Reznek, with both actresses demonstrating an exhilarating virtuosity of passion and technique. Performed for the most part in French, with the occasional smattering of South African English, this in no way hinders, and actually enhances one's appreciation, enjoyment and understanding of the play's emotional thrust.
The evocation of contemporary Cape Town, through a mixture of Afrikaans slang, bustling street scenes and the rudimentary wire mesh skyline prop, is highly effective, and one manages to get a remarkable sense of the mothercity's vibrancy. Likewise shoes marking the passage of time and the physical journey itself are another potent, well-deployed prop.
Aesthetically simple yet immensely compelling, with fire on stage, and beautifully haunting, elegiac African musical interludes, this is a finely wrought and sensitive production, ably directed by Mark Fleishman, which has already garnered both prizes and plaudits internationally.
The figure of the departed (or dead?) friend Ernestine, and the letters written to her by Aggie, are central motifs which haunt the play - in fact the play's title refers to the way in which Ernestine spiritually accompanies Aggie on her journey across Africa.
Sitting there, I was reminded of Camus' famous line from his novel La Peste, exhorting human solidarity in the face of adversity, "We are all in the same boat. We must help each other."
In the light of current discussions about immigration to these shores, this is a topical and humbling play with an important, timely message, albeit one transposed to a South African setting. This depiction of the nomadic plight of refugees, and their story of human suffering, loss, dislocation, pain and survival in a hostile world, is both thought-provoking and utterly watchable.
---
Related links
Every Year, Every Day I am Walking is at the Oval Houe