Eurydice, Young Vic
Published:

Monday, May 10, 2010 6:10 PM

| Review by:

Contributor

|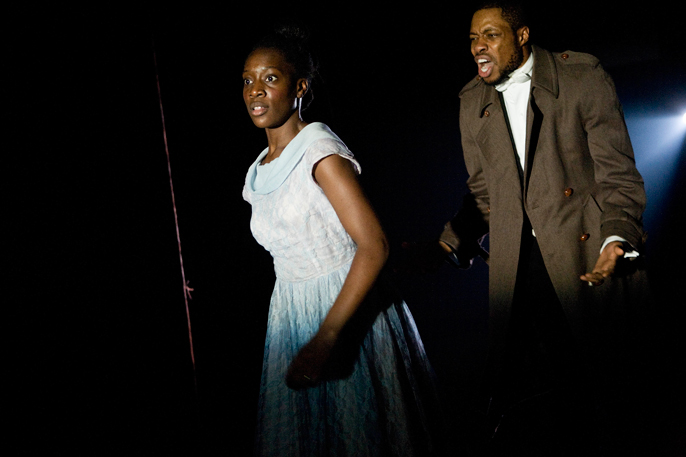 This playful and original adaptation of Eurydice is written by US playwright Sarah Ruhul and is a simple yet magical story of grief and redemption - think Greek mythology meets Alice in Wonderland.
Eurydice (Ony Uhiara) and Orpheus, son of Zeus (Osi Okerafor) are young and hopelessly in love. Their time is spent gliding around in a musical bubble, teasing each other and gazing into each other's eyes. Orpheus proposes in the most subtle of ways and before you know it they are lindy hopping and jiving at their wedding reception.
To retrieve her dead father's letter from the underworld Eurydice is tempted away from her wedding and into the fancy apartment of a nasty man who has acquired her father's letter to her. Feeling uncomfortable at leaving her husband, the newlywed hastily escapes the pad and in true Greek dramatic style – tragically falls down a flight of stairs and into the underworld.
The underworld is a place where on entrance memories of the past are wiped and speaking isn't the done thing. The place is governed by the three Stones who offer guidance to Eurydice on how life in the underworld should be and are adept at dampening her spirits. She meets up with her father who looks after her and offers words of wisdom and helps keep her love of her husband alive. Meanwhile, Orpheus is lost without his lady love but finds a magical way to be reunited with his beloved wife. It's not as easy as that though.
The vivid words, believable cast, simple production and skilful direction all work seamlessly together to create a heart-breaking but dream-like story of love, loss and belief – with music as the perfect back drop. Eurydice is a beautiful piece of theatrical escapism and a joy to watch.
This is a Young Vic / ATC /Drum Theatre co production, directed by Bijan Sheibani.
---
Related links
Afridiziak Theatre News interview with Osi Okerafor
Eurydice is at the Young Vic from 29 April to 5 June, 2010
Afridiziak Theatre News review of The Brothers Size
Afridiziak Theatre News review of In the Red and Brown Water
Afridiziak Theatre News interview with Ony Uhiara