Dream of the Dog, Trafalgar Studios
Published:

Monday, June 7, 2010 16:01

| Review by:

Monique Needham

|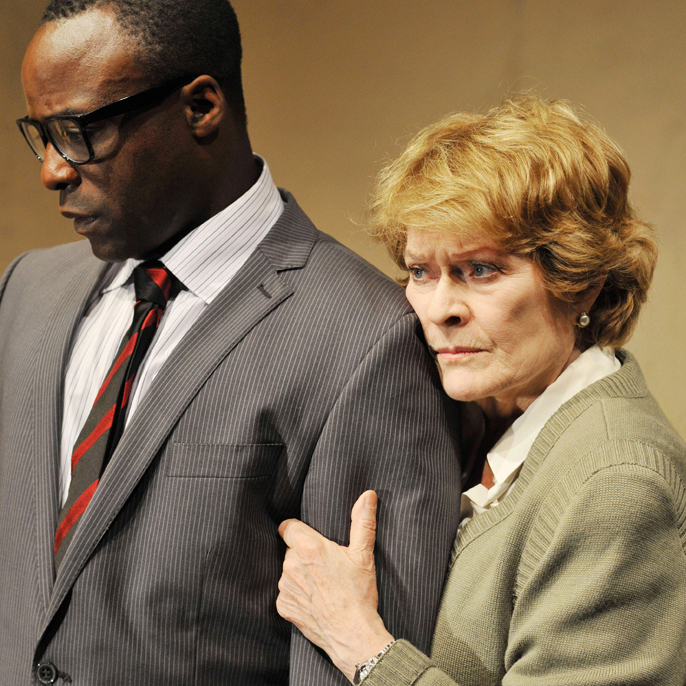 Imagine being a fly on the wall in someone else's home. Watching their every move, listening to their every thought, conversation and outburst. Now imagine being able to see and hear all of that and no one even knows you are even there. This is what sitting inside Studio 2 at the Trafalgar Studios to watch Dream of a Dog felt like. Had I just entered someone's living room and sat down without being noticed? This intimate setting allowed the audience to forget that they were even at the theatre, watching a performance and instead drew us into their world, their life, their story.

Patricia Wiley, relaxed in her floral chair, gets up to bellow for her senile husband 'RICHARD'. Richard Wiley played by Bernard Kay walks in with a spade in his hand walking in slowly and his senile and prejudice ways become apparent throughout his performance. As the play continues we are able to make sense of where we are, on a farm in KwaZulu-Natal, South Africa. Patricia and Richard are packed up and ready to move to the coast to retire and leave their past behind. That all seems possible until Look Smart, the once garden boy now a successful, suited and booted businessman returns.

The interchange of dialogue between Patricia and Look Smart begins slow, they are clearly talking about something we the audience know nothing about but combined with that confusion and Look Smart's, initial shouting line after line it was difficult to see where this play was going. Then finally the plot began to unravel and Look Smart's return after 15 years begins to make sense. Where Patricia wants to leave for the coast to forget about her past, Look Smart is determined to remind her of a traumatic incident with the intention to make her deal with the 'consequences'.

Cleverly written by South African playwright, Craig Higginson, this plot is driven by memories and recollections of the past experience. Even though the entire play is set in one room and focuses on one conversation you are able to vividly visualise all that is being discussed. Janet Suzmen who plays Patricia completely owned that role. While watching the play it was not Janet on that stage it was Patricia Wiley, she was real for every one of those 75 minutes. Her love for Look Smart was apparent and her confusion and upset when he blamed her for that traumatic incident, well she did not have to deliver lines to express what she was feeling; the audience felt it from her delivery of emotion.

Ariyon Bakare's performance as Look Smart was strong and intense. Through his demeanor, his straight face his whole entire energy you were able to feel his anger and pain on his entry to his first scene. In contrast to feeling Patricia's confusion and upset, when Look Smart told his story and shared his memories the compassion shifted to him.

Suzmen and Bakare were the perfect pair for this performance. There acting combined with Higginson's creative writing had an audience torn almost as though they were playing a game of tennis with their sympathy between them both.

Higginson has allowed his audience to be a fly on the wall on a snapshot of a 15 year story. With Suzmen and Bakare's powerful performance combined with Kay's and Gracy Goldman role of Beauty the house girl, the audience is forced to enter the world of injustice. You will not leave that studio without feeling moved.
---
Related Links
Dream of the Dog is at Trafalgar Studios until 19 June, 2010