Detaining Justice, Tricycle Theatre
Published:

Tuesday, December 15, 2009 11:08 AM

| Review by:

Karla Williams

|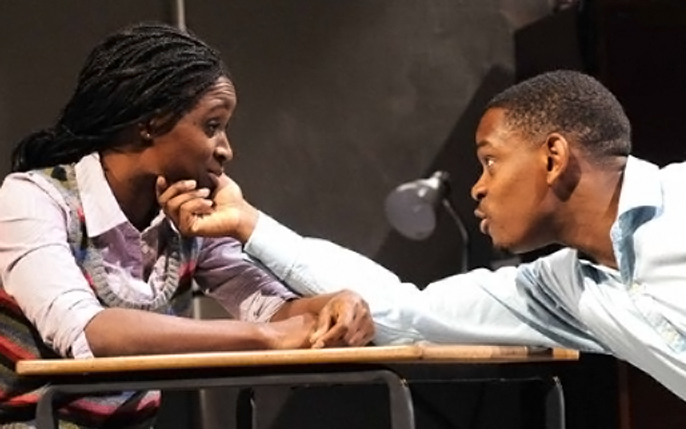 Last to take the stage as part of the Not Black and White Season is Bola Agbaje, with her play Detaining Justice exploring the ever popular and relevant theme of immigration.
Justice (Ameen) is a young Zimbabwean man who entered Britain illegally and is being held in a Detention Centre. His sister Grace (Duncan-Brewster) is doing all she can to get set him free, but since his appeal has recently been rejected, is slowly losing hope. She thus takes refuge in religion and seeks God for His help in realising her brother; thanks mainly to the advice of two born again Christians, Abeni (Noble) and Pastor Pra (Holdbrook-Smith). Looking after the case is Mr Cole (Collins), a hotshot lawyer with a reputation for always coming out on top, but who seems less than enthusiastic about the prospect of Justice being allowed to stay in the country. Grace thus takes matters into her own hands and befriends Ben, the assistant to a Home Office lawyer. But she soon realises that sleeping with him was a pointless exercise and as time goes on she becomes less and less hopeful that justice will be done.
Agbaje's play aims to explore all sides of the immigration argument and has thus created characters that reflect the variety of views and opinions. In particular Alfred (Akingbola) the Home Office lawyer has a less than sympathetic view towards illegal immigrants and as far as he's concerned, they should all be send home. Also case worker Mr Cole has a somewhat jaded approach to the British legal system in general; one that's idealistically counteracted by his young colleague Chi Chi. While a rounded overview of such a legally complicated and emotional invested subject is necessary, the play often felt like a collection of debates from contrasting positions rather than a creditable story with believable and convincing characters, specifically when depicting the legal argument. However this wouldn't necessary be a problem if only the legal argument didn't make up 50 per cent of the play.
Earlier this year playwright Clare Bayley also tackled the theme of immigration in her production of The Container at the Young Vic theatre. The significant difference between that play and Detaining Justice is that I felt moved by the plight of many of the UK's illegal immigrants and they became more than just statistics or subjects of ridicule in The Daily Mail. The Container not only gave a voice to people who would have otherwise gone under heard, but did it in a way that really moved, engaged and effected it's audience – something that I feel was lacking in Agbaje's play.
That said the play does provide some very comical moments, principally when focusing on Pra and Abeni. The church scene is laugh out loud funny and the mannerism and characteristics of the congregation were instantly recognisable (I also come from an Evangelical black church upbringing) and entertaining. Because of this Kobna Holdbrook-Smith as Ghanaian Pra and Cecilia Noble as Nigerian Abeni give the most memorable performances of the production, while Aml Ameen and Sharon Duncan-Brewster do well as Zimbabweans Grace and Justice. I also have to mention Karl Collins who has given an exceptional performance in each of the Season three plays and while some of the roles required more from him than others, he is yet to disappoint me whenever he sets foot on stage.
Director Indhu Rusbasingham has done an excellent job crafting the production especially the transition between the sometimes short scenes. Detaining Justice is by no means a bad play, but following on from two rather outstanding pieces it unfortunately is the least remarkable of the three.
Cast includes: Jimmy Akingbola, Aml Ameen, Sharon Duncan-Brewster, Karl Collins, Kobna Holdbrook-Smith and Cecilia Noble.
---
Related links
Detaining Justice is at the Tricycle Theatre until December 19, 2009