Coming Up for Air and after-show talk at Rich Mix
Published:

Thursday, December 11, 2008

| Review by:

Ekua Ekumah-Asamoah

|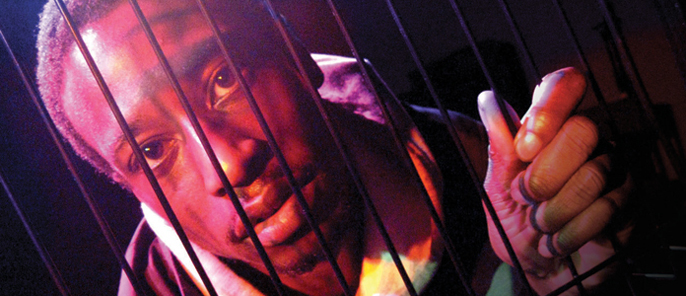 A young black man, Denzil Nurse (James Hamilton) walks into a council meeting, shoots and kills three community leaders and seriously injures three others. His trial is adjourned when his barrister puts forward a motion that a psychiatrist must first determine if this man was in control of his mental faculties or was indeed mad.
Thus begins the complex journey between Nurse and his female, African psychiatrist, Dr. Jules Wright (Adanna Oji). Nurse believes that society has failed him; his community representatives no longer represent him, so therefore he must eliminate them. Dr. Wright, in his eyes represents the "institution" that is robbing him of his freedom, and she has the difficult job of diagnosing him.
The many complicated and diverse tenets that this union unearths are addressed on a surface level in this play that tries to provide a platform for this rather sensitive issue of the mental health and the black community. The director, Olusola Oyeleye brings this play written 21 years ago by Don Kinch, up to date interestingly in her use of the space. Phil Newman's set of black and white frames; some on castors for 'movability' was highly effective. We moved from Nurse's confined cell into a courtroom, then on to Dr Wright's home with such ease; one could almost say cinematic in nature.
The turning of a frame to represent a window or a door frame to change location were simple and clean in this complex world and the changes of scenes were in full view of the audience, and I believe a clear decision by Oyeleye.
The after show talk revealed her need to throw more light on this sensitive issue, and highlight the areas one does not usually have access to. Opening the courtroom scene out to the audience, showing the whispering in the corridors between officials and the murmurings used in the sound scape were a small glimpse into the 'hidden.' This play tackled a serious issue which has left me with many unanswered questions. It is about two opposites, seemingly similar on the outside, finding a common ground, and who wins.
---
Related Links