Brenda Edwards returns to CHICAGO the musical at the Cambridge Theatre
Published:

Thursday, December 11, 2008

| Review by:

Vanessa Norman

|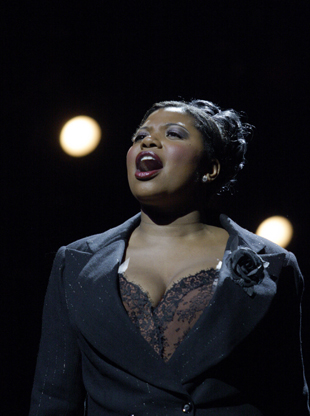 Set in the 1920s, CHICAGO follows the lives of two fame hungry female prisoners doing time for murder whilst taking a satirical look at corruption, exploitation and the criminal justice system of that time. The production boasts exceptionally athletic dance routines that will certainly surprise audiences and will leave you wondering 'how did they do that?'

The imposing image of the 14 piece band in the middle of the stage integrates beautifully into the production and adds to the illusion of being in a glamorous 1920s jazz club. The role of prison matron Mama Morton is taken on by Brenda Edwards (X Factor) who brings real soul to the character. Edwards' first big number "When You're Good to Mama" captivated the audience as she cut a striking figure on the stage.
Other notable performances to look out for include the remarkable 'We Both Reached for the Gun' featuring Roxie as Billy's ventriloquist's dummy and 'Razzle Dazzle' where Flynn assumes the persona of ringleader in a circus act. This production probably won't be for everyone as the semi-naked cavorting throughout will raise eyebrows. However, the cast do a good job of keeping the audience wowed in this dazzling story.
Catch Brenda Edwards in CHICAGO until 26 January, 2009.
Tickets for CHICAGO, priced from £20.00 - £55.00, are available from the Cambridge Theatre Box Office on 0844 412 4652. Performance times at the Cambridge Theatre are Mondays to Thursdays at 8.00pm, with Friday performances at 5.00pm and 8.30pm and Saturday performances at 3.00pm and 8.00pm. CHICAGO is now booking until 31 July 2009.
---
Related Links