Category B (Not Black and White Season), Tricycle Theatre
Published:

Wednesday, October 14, 2009 16:33

| Review by:

Karla Williams

|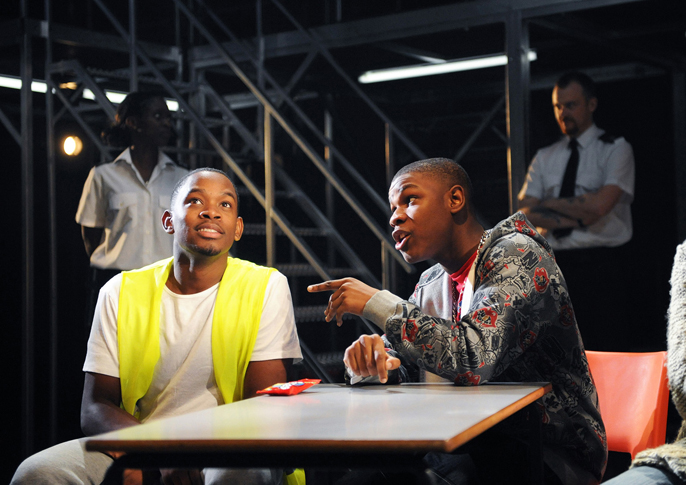 Roy Williams' impeccable new play is the first in a collection of three, as part of the NOT BLACK AND WHITE season at the Tricycle Theatre. Set within the wing of a fictional category B prison (for prisoners who do not require maximum security, but for whom escape needs to be made difficult) the story follows Angela (Duncan-Brewster), the senior officer of the wing, and her official slash unofficial involvement with the guards and prisoners alike. The first of which is Saul (Akingbola) the wings number one inmate who with 'off the record' assistance from Angela, keeps the wing in order. Then you have Errol (Collins), the violent junkie six weeks away from parole and who also doubles up as the resident snitch. Finally there's the 'newbie' Rio (Ameen), who's keen to keep it a secret that he's serving time for the rape. But as these and other characters become embroiled in an almost labyrinth like plot, we are left wondering is there ever a clear line between right and wrong and who, if any of them, can be trusted.

Williams is one of the country's leading playwrights and with plays such as this, it is clear to see why. CATEGORY B is faultlessly structured and exceptionally written as the BAFTA awarding winning writer perfectly balances nine different characters with none of them feeling either superfluous or over represented. From Angela who spends most of the time on stage to Reece (Rio's younger brother), who make one five-minute appearance every character is required and brings a different and additional dimension to the greater plot and story. While the action does become a little confusing towards the end, his trademark ear for dialogue and empathetically written characters keeps your eyes and ears continuously glued to the stage.

Designer Rosa Maggiora has created a set that is vividly effective at recreating the sights and sounds of the inside of a prison and combined with director Paulette Randall's experience and skill to maintain the piece's required pace, have superbly brought Williams' script to life.

Randall has also drawn first rate performances from all of her talented cast but in particular Aml Ameen as Rio. Being known more for his televison and film work, he gives an excellent stage performance as the young and troubled rapist. Karl Collins is also impressive as Errol as well as Jimmy Akingbola as Saul.

With plays still to come from writers Kwame Kwei-Armah and Olivier award winning Bola Agbaje, Category B has placed the bar to an almost unreachable high; kicking this black British season off to a tremendous start.

Category B, written by Roy Williams is part of the Tricycle Theatre's Not Black and White Season. The cast includes: Jimmy Akingbola, Aml Ameen, Sharon Duncan-Brewster, Karl Collins and Robert Whitelock.
---
Related Links
Listings information for Not Black and White Season
ATN interview with Jimmy Akingbola