Cat on a Hot Tin Roof by Tennesse Williams
Published:

Tuesday, December 15, 2009 3:08 PM

| Review by:

Karla Williams

|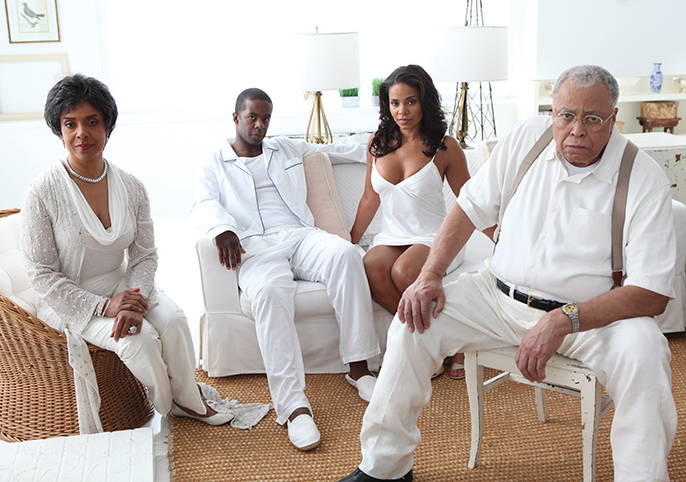 Having been a fan of the play since studying it at University I was more than excited to learn that Cat on a Hot Tin Roof (considered by many as Williams' greatest work) was returning to the West End. Add to this that it features a cast of only black actors – a feat that has never been done before – my excitement not only doubles but triples.
Set on the 28 acre plantation of Big Daddy Pollitt (Jones) it tells the story of his second son Brick (Lester) and his estranged, but present wife Maggie (Lathan) who are undergoing marital problems after the death of Brick's best friend Skipper. Having returned to the plantation for the celebration of Big Daddy's 65th birthday, the childless couple are forced to endure the sweet, but somewhat simple, Big Mamma and her constant inquiries about grandbabies (played brilliantly by Rashad). However Big Mamma's questions are not all they have to contend with as they've recently found out that Big Daddy is dying of cancer; hidden from him under the guise of a spastic colon. Also present in the house is Brick's brother Gooper and his meddling wife Mae who are doing all they can to ensure the 28 acre plantation ends up in their hands once Big Daddy finally kicks the bucket. Thus a story of sibling rivalry, homosexual desire and bridled passion unfolds during a hot sticky night in the Deep South.
As with most of Williams' plays the drama of Cat on a Hot Tin Roof revolves around characters and their interactions, feelings or attitudes towards one another. The first of the three acts establishes the relationship between Brick and Maggie and sees Maggie constantly wavering between sultry temptress and hysterical widow; which requires a performance that endures her to the audience despite her inconsistency. She also plays a central piece in this act as her revelations about her marriage and sexual longings set up the story for the rest of the play.
Lester gives one of the plays best performances and he is both enjoyable and convincing as Brick. He captures the characters disgust and repulsion with this life, to the point that he prefers to drink himself into a stupor than engage with his wife and family. Equally as brilliant is Rashad as Big Mamma and the talented actor has undergone a transformation since her well documented days as Clair Huxtable from The Cosby Show.
Debbie Allen has done a good job recreating Williams' magnum opus and her direction combined with an almost faultless set and sound design provide a good, solid production.
Cast includes: Sanaa Lathan, Adrian Lester, James Earl Jones, Phylicia Rashad and Richard Blackwood and Nina Sosonya
---
Related links
Cat on a Hot Tin Roof is at the Novello theatre until April 10, 2010
ATN interview with Adrian Lester, Cat on a Hot Tin Roof
ATN interview with Sanaa Lathan, Cat on a Hot Tin Roof