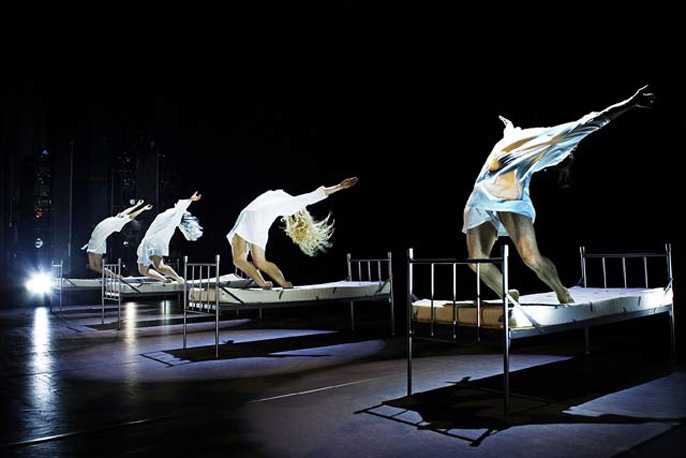 Opening with a hip-hop bang from the speakers this crazy, inventive, and slick street dance production focuses on the havoc new patient, Randall Patrick McMurphy (Joao Assuncao), brings to a psychiatric ward. He shows them how break dance can be a mode of rebellion against the iron rule of Nurse Ratched (Letitia Simpson) – who happens to be a ballet fan…

The inmates are compelling: the nervous Billy (Robert Malmborg) eager to get a girl, the obsessive compulsive disorder of Mr Harding (Edin Jusuframic), the bladder troubled Miss Martini (Jennie Widegren) who is always dropping her trousers, and the evil Nurse Ratched supported by her wardens Dawid the Bad and Joe Good (Dawid Bienkowski and Joe Jobe respectively). The performers' talent is shown in the first scene with a haunting masked dance where illusion and reality merge using clever lighting depicting prison bars.

Bounce's explosive version of Ken Kesey's classic novel and Dale Wasserman's play, One Flew Over the Cuckoo's Nest, is set against a contemporary soundtrack with numbers from Missy Elliot, Dizzee Rascal, Gotan Project, Cypress Hill, the Bhangra beats of Panjabi MC, and many more. It is infectious, raw, and the characters are refreshed with their unique dance signature.

The production tackles the issues at play – abuse of power, repression and madness, institutionalisation and treatment, and who defines insanity anyway. What is remarkable is that it continues to amaze, stun, and amuse throughout its one hour and twenty minute run. From ballet as a pacifier for the mental patients to a duo performance of dancing with crutches behind a fence to bungee jumping dance against a sloping board signifying the patients' electroshock therapy treatment, this show is high octane. Comprising mainly of Swedish dancers, there is hardly any dialogue, but the dance conveys the story and the emotions – sadness, tension, and humour. The fact that it is so successful demonstrates that hip-hop is an international language.

The patients become part of the audience when they climb down into the stalls to watch a hip-hop version of a silent movie that is hilarious. On a real screen a tramp trio engage in a ragga style dance off with the movie's bourgeoisie citizens; including an Edwardian lady bussing some whine your waist moves. Then there's the patients' party where high on drink and drugs, they zip back into unexpected 1980s revival scene, complete with fun snippets of Flashdance and Fame. Widegren is in her element jiving away in a high cut leotard.

The only criticisms are that the minimal dialogue at the beginning is jarring and stilted. At the end it is unclear why Billy relapses at the brutality of Nurse Ratched, but the quiet, powerful finale reflects the spirit of Kesey's original.

Absolutely fabulous: spread the word. This show deserves to run and run and run.