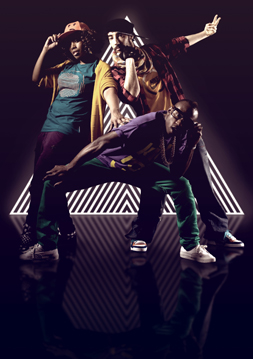 There was a real hip-hop vibe in the air when street dance met the West End in the dance sensation Blaze which is now showing at the Peacock Theatre London.

Dancers from all over the world took to the stage to put on an exciting display of unique talent showcasing body popping, physical contortions, and acrobatic tricks which would probably leave the rest of us lying in A & E.

With the pace never letting up other styles of dance were thrown into the mix. I particularly enjoyed the tap-dancing set and the way in which ballet was infused with street.

Other highlights included segments dedicated to 80's break-dance and early 90's swing with music and moves representing these era's and if you're hungry and wondering how you combine dance with food, look out for the butter, beans and celery dance.

Appropriate tribute was also shown to the late, great Michael Jackson and there were some stand out performers who like him were incredible to watch.

With an increasing number of reality dance shows on TV from So You Think You Can Dance to Pineapple Studios, it was refreshing to see this live and prove that street-dance can have a home in the theatre arena.

An imaginative use of set design allowed performers to exit and enter the stage in many a bizarre fashion and you will be dazzled by their ability to improvise fluid movements which make it look as if they have no bones in their bodies.

Blaze is colourful, vibrant and explosive and has great cross-over appeal to a mass audience. I would highly recommend you catch this show.
---
Related links