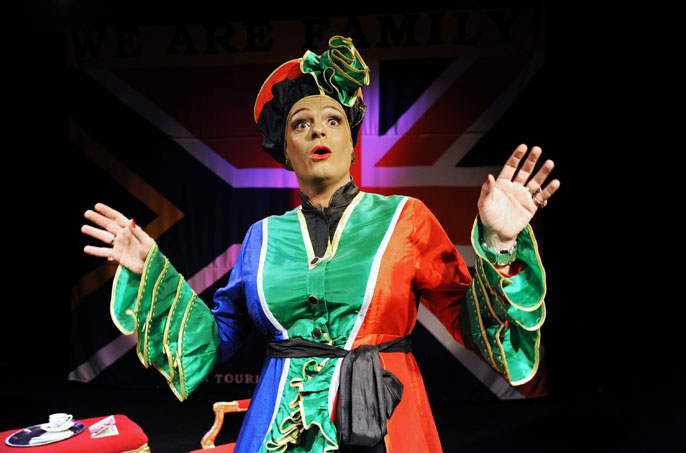 A colourful and utterly outrageous production featuring Beauty Ramampelepele (Ben Voss) is probably the simplest way to describe this wonderfully entertaining piece of satire. A white man playing a black south African award-winning business woman on "her" first trip to the UK (British citizenship intact - if only our airport controls were also so easy to manoeuvre), Ben Voss holds no bars. Every stereotype under the sun is thrown out to the audience for us to laugh at, cringe at and sometimes wince at but most importantly to mentally digest.

Making jest of immigration, racial divides and the neo-imperialist attitudes of the British (amongst others), Voss presents a refreshing take on all the issues that in the run up to the FIFA 21010 World Cup, the majority of mainstream society still finds uncomfortable discussing in an open forum.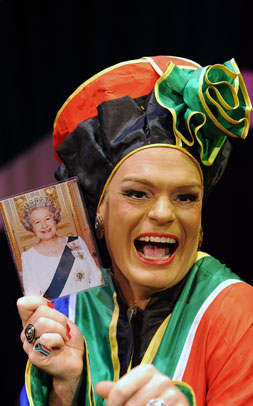 Capturing the audiences attention from the moment she walks on stage in her garish costume, an ensemble paying tribute to the South African flag, "Beauty" mesmerised and charmed us. The audience genuinely felt at home with this vibrant soul - audience engagement and participation created a welcome sense of unity-the African dance scene is a prime example of this .
Tackling serious issues of criminal degradation in South Africa to political dictatorship in Zimbabwe, Voss offers a real insight in what South Africa is beyond the World Cup, Guilt complexes and crime. In some respects it's a reflection of the world as a whole, constantly battling and celebrating its own diversity.

I absolutely recommend this production to anybody and everyone who is open to real world issues, pre-CNN special reports. The only downside here is perhaps that Voss didn't go deeper into the issues that modern SA has to deal with, however being only 75 minutes long they were touched upon in the best way possible (I could have sat through another 75 minutes).

"I'm surprised so few people know I'm famous" Beauty exclaims and if it were up to me more people would - perhaps this humble review will help. Voss is exceptional and I look forward to seeing many more productions from him here in the UK.
---
Related links
Bend it Like Beauty is at the Oval House Theatre until 12 June, 2010.