Been So Long, Young Vic
Published:

Monday, June 22, 2009 19:02

| Review by:

Karla Williams

|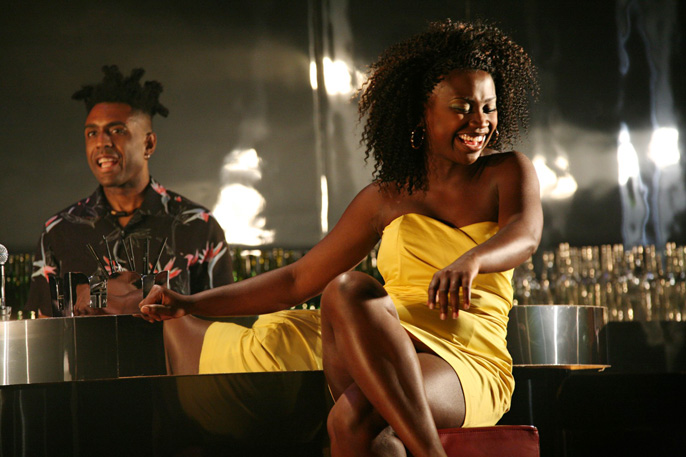 The first impression when you walk into the Young Vic theatre is one of amazement and grandeur as the space has undergone an unparalleled transformation to be become Club Arizona, where the action of Been So Long is set.

The club is owned by Barney (Omar Lyefook), but being less preferred than Jake's establishment across the road, will soon be closing down. Visiting the bar on this particular night is Gil (Harry Hepple) who is out on the hunt for Raymond (Arinze Kene) to finally pay him back for stealing his girl three years previous. Also in the club are Simone (Cat Simmons) and Yvonne (Naana Agyei-Ampadu) who having planned to have a man-free, girl's night out have unfortunately become distracted by some of the club's clientele.

Che Walker's 1998 play now includes music but it often feels as if there are too many songs for the story and they at times distract from the plot. Also towards the middle the pace drops and the action begins to lag. That said; the performances are all first class, in particular Agyei-Ampadu whose voice is truly amazing. Omar also performs well while singing as Barney (no surprise there) but it's a shame we don't get more insight into his underused character. Gil is the favourite out of the five and he provides much of the play's energy and humour; delivering many of the scripts funny one liners.

Been So Long has its faults and the production lacks the punch of Walker's other play The Frontline. But the fantastic live band and closing number will have the braver amongst you up on your feet for what is overall a good modern musical.
---
Related links
Been So Long is at the Young Vic until July 15, 2009.
ATN interview with Arinze Kene
ATN review of The Frontline
ATN interview with Zawe Ashton, The Frontline