Aladdin, Theatre Royal Stratford East
Published:

Sunday, January 3, 2010 8:03

| Review by:

Chloe Thomas

|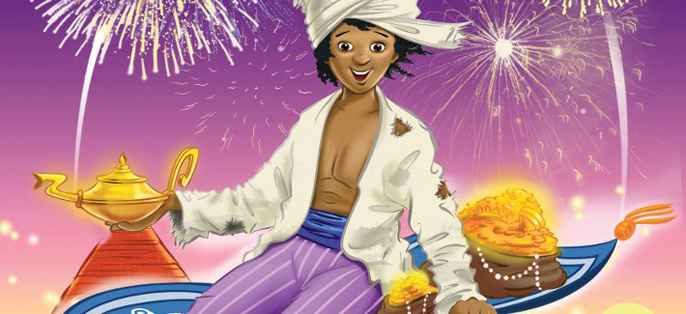 Kerry Michael and his team at the Theatre Royal Stratford East are on to a winner with Aladdin. Even the fire alarm clanging off at curtain up did not make a turkey of this show, as the ebullient Chloe Allen playing Wishy and her sidekick washy (Alton letto) entertained the shivering crowd in the square outside. When the firemen gave the all clear we bustled back indoors like the East End folk from the forties, high on the post air raid excitement.

Back in our seats it was lift off with the classic ripping yarn of the triumph of youth over the powers of darkness. One of the most impressive features is Jenny Tiramani's set that perfectly evokes the ancient world of Arabian legend, from the market scenes where Aladdin and his chums Wishy and Washy cut some shapes, to the ominous Mummy shaped tomb in which only the "chosen one" can enter. I was also bowled over by the amount of colour with the beautiful brightness of the costumes to the atmospheric lighting. The music and choreography also place this production high on the pantomime pecking order.

There were some notable performances with Michael Bertenshaw as the bawdy pantomime villain Abanazar and Darren Kuppan's hip hop thoroughly modern Aladdin who keep the action moving. Peter Straker as the Rock n Roll Genie is also very pivotal. But there is no doubt that the night belongs to Derek Elroy whose lively and quick-witted turn as Ma Twanky makes him the unrivalled star of the show.

Get on board the Theatre Royal's Aladdin, it's one hell of a red carpet ride.
---
Related Links
Aladdin is at Theatre Royal Stratford East until January 16, 2010.