Aladdin, Hackney Empire
Published:

Tuesday, December 15, 2009 10:59

| Review by:

Ekua Ekumah

|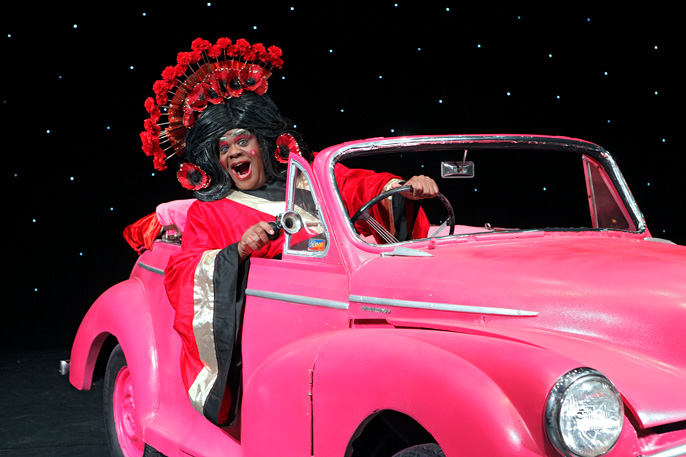 Once more, Hackney Empire has done it again. It has produced a thoroughly fun packed traditional British Panto with a heavy injection of the contemporary surroundings that is the multicultural community of Hackney. The local stars have shown their loyalty and have returned for what we hope will not be the last time at this theatre.

The show opens with the 'voice' of Sharon D Clark as the singing Camel Carmina, who is our storyteller. Anna Jane Casey plays our traditional thigh slapping Aladdin, who has fallen in love with the 'Princess' that no one, must lay eyes upon. Tameka Empson plays the rather protective mother and Empress of China, with a strong Jocelyn Gee Essien influenced Nigerian accent. It turns out the Nigerian persona was a cover up for her east London self. The 'Nigerian Queen' did pull many laughs from the audience with her eccentric antics.

Kat B drew a loud cheer when he 'flew' on stage as the Genie of the Lamp, with his 'six pack' bared chest flying and spinning through the air. The Genie of the Ring, in the person of the lovely Josephine Melville, had a memorable moment in the show, when she turned into a magical red lip-sticked flying dragon, to transport our hero Aladdin to Arabia.

We all know the story, which is part of the fun of the panto, but it would not be the same without the Dame. And what a dame we have. Clive Rowe is simply genius as Widow Twanky, making her grand entrance on a Chinese rickshaw, dressed in a washerwoman costume complete with a washing line attached to her head. Clive's timing is impeccable both in line delivery and movement. He is surprisingly light footed for a man of his size. His dance routines are a joy to watch, even when slight mistakes are made, (which are to be expected with the size of some of his headdresses). He has a wonderful rapport with the audience and will get us to do almost anything. I found myself waiting for the famous 'Koo eee!'; his traditional call out to the audience.

If you have not gathered by now, I had a superb time. My five year old also had a great time and was proud of herself when she saw Sharon D Clark in the audience and recognised her voice as the camel, too; clever girl.

If you are looking for a family panto that truly caters for all ages, "Aladdin, London's No. 1 Pantomime' is the one.
---
Related Links