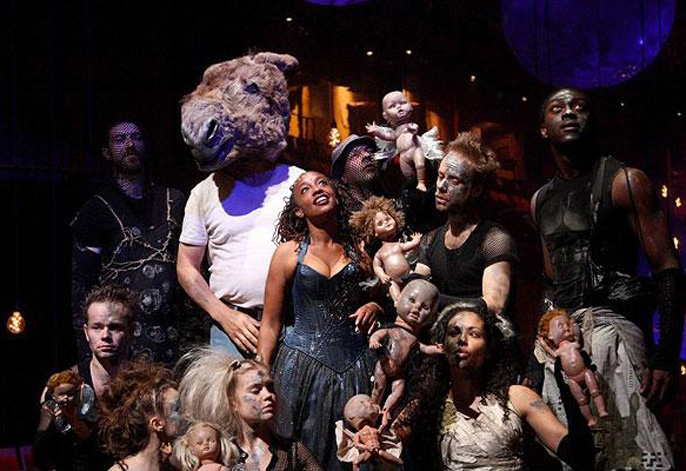 The play opens with the stunning bride-to-be Hippolyta (Riann Steele) talking to her future spouse Theseus, Duke of Athens (Robert Curtis). They have a dilemma before them. Egeus Duke of Athens is before them to report his daughter Hermia (Kathryn Drysdale - better known for television sitcom Two Pints of Lager and a Packet of Crisps.) Her wrongdoing? Declaring Lysander as her lover. Her father would like her to marry Demetrius who is from a noble and wealthy Athenian family. Hermia's disobedience and her father's frustration causes the Duke to decree under Athenian law that she must marry Demetrius or face the death penalty or enter a convent.

Luckily for Hermia, Lysander is a man with a plan. He has a widow aunt, who lives outside Athens, where no such draconian law exists and they can be married there. They plan to elope that evening but not before telling their good friend Helena of their plan. Helena, however has her own agenda. She is in love with Demetrius who only cares for Hermia as does Lysander. Feeling left out and wanting to curry favour with Demetrius, Helena does not delay in telling Demetrius of Lysander and Hermia's scheme. Soon all four lovers find themselves in the forest…

Leaving the lovers awhile we are introduced to Bottom, an Athenian tradesmen and his friends. Bottom is played with much hilarity by experienced actor Joe Dixon. As the RSC is famous for doing the play is mixed with old and new elements. The audience is fast forwarded into a modern setting as we see the tradesmen standing by a food stand in the forest with the writing on a banner : 'falafel wraps and salad.' Coincidentally the tradesmen are rehearsing their ancient play in the forest. . The play in question is The Tragedy of Pyramus and Thisbe. We see the workmen's clumsy attempts and their amateurish acting we are not told yet who the tradesmen want to perform the play to. Led by Joe Dixon's Bottom sporting a Dudley accent the audience is soon in stitches and high jinks ensue.

Deftly we are introduced to the world of the fairies and the play quickens pace and takes on darker undertones. The couple Oberon and Titania, King and Queen of the Fairies are fighting over the changeling boy who Titania has brought up as her own. Oberon wants the changeling boy for himself to act as his boy servant. In order to punish Titania, Oberon sends Puck his favourite sprite to pick a magic flower the juice of which when squeezed on the eyes of someone in slumber upon awaking makes them fall in love with the first thing they see.

Puck squeezes the juice on the four lovers' eyes. On awaking Lysander who is saucily played by Tom Davey and previously has made many sexual overtures to his love Hermia now finds himself in love with Helena, as she is the first person he sees. Demetrius also firsts sees Helena ands so now forgets about his love for Hermia. The two men feverishly court Helena, much to Hermia's consternation, anger and resentment. We see Helena utterly bewildered as this tall lady is not used to the attention unlike her petite prettier friend Hermia. Hermia is also bewildered by the lack of male attention that she has so become accustomed to. Titania too awakes in the forest and promptly falls for Bottom on whom Oberon has placed an ass's head. Effectively Titania is now in love with an ass.

But now realising the error of their ways Puck and Oberon seek to remedy the mess they have created. Happily with the right spell Lysander goes back to adoring Hermia and Helena's love is no longer unrequited and Demetrius can now love her. So three weddings are now planned that of Theseus and Hippolyta, Demetrius and Helena and now with Egeus' blessing Lysander and Hermia.

The play has lovely moments of light and shade. The shadiness and witchcraft of the sprightly yet dangerous fairy figures married with the comic innocence of Bottom and the other tradesmen. Stand out performances include a gutsy delivery from Kathryn Drysdale as Hermia, a lovely soft-centred Queen of the Fairies in Tatiana (Andrea Harris) and the skilled comic timing of Joe Dixon as Bottom. Disappointingly the play is made slightly less pristine by an overlong denouement where the tradesmen perform their 'Pyramus and Thisbe' play, which by now has descended into farce, yet is meant to entertain the audience. In spite of this the play is worth seeing and enjoying for what it is: Shakespeare at his light-hearted best.

A Midsummer Night's Dream runs at the Novello Theatre in London from 15 January to 7 February 2009.
---
Related Links

A Midsummer Night's Dream, interviewed By Karla Williams