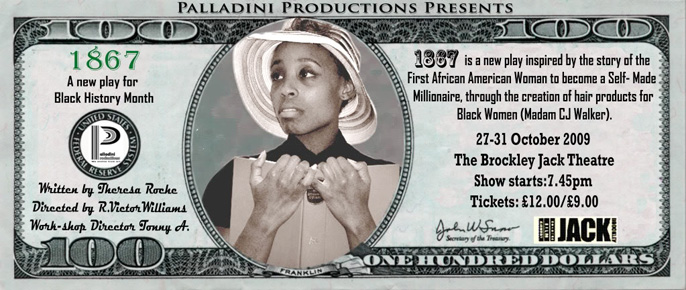 1867 is an engrossing play inspired by the life of Madam CJ Walker, a woman who was not only willing to break gender boundaries but also racial ones. Considered to be the first African-American, self-made millionaire, 1867 is a play which celebrates the revolutionary acts of this woman, by bringing her to life in the form of Delilah Mc Andrew.

Performed at the Brocley Jack Theatre, the play chronologically follows the life of its protagonist Delilah, who is born free, to parents who were former slaves. After loosing them at the tender age of seven, Delilah and her sister Abbey (played by Caroline Gadekah King) travel across the river to Vicksburg where they both become maids, and thus her story begins.

The play was truly captivating, since the minimalist set design; which consisted of a few pieces of furniture and amazing projected images didn't distract the audience attention from the excellent acting and short scenes.

Despite the occasional London accent creeping into some of the actors dialogues, the majority of the cast portrayed authentic American accents.

Shakella Dedi who played a younger Delilah managed to capture the innocence and strength of the character in a very real manner. Her monologue, titled God was especially enthralling as she encapsulated the pain and anger at having lost her husband. Davina Cole, who played an older Delilah, acted with such ease and grace, however the intense scene between herself and her third husband (Philip Le Grand) played by Marcus Adolphy had a climax which was a little over-dramatic and thus took away some of the realism from the end scene.

Nana Nkansah who played a very drunk Jo Da Costa Booker performed an excellent monologue which had me engrossed and squirming in my seat in disgust towards the character.

The play was a real success and once again, was an excellent choice for celebrating black history.

1867 is at the Brockley Jack from 27 – 31 October, 2009.
---
Related links