Ali Siddiq – review
Ali Siddiq is bigger than bars, Soho Theatre
Words by:

Isaac Tomiczek

| Published:

Thursday, November 1, 2018 10:51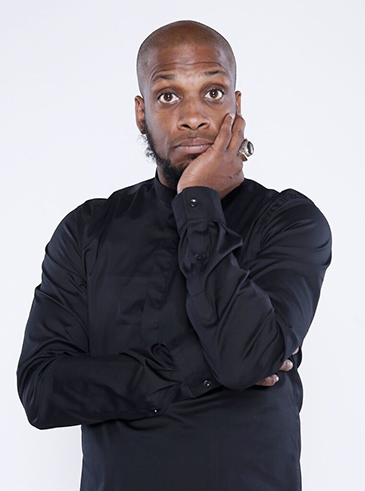 Before seeing Ali Siddiq I was sitting in the Soho Theatre bar, scoping the patrons trying to figure out who had come to see him, because I'd never seen him live and I'd never heard of him. However once he'd wrapped up his hour-long set he was firmly etched in my memory. The crowd was mainly a mix of newbies stepping into the unknown and a few fans who knew what to expect but it wasn't the crowd you would find at a stand up set by an African-American in the heart of the west end. I spotted adults, with their teenage kids and a few tourists. It was a mixed crowd, which made for a good challenge.
Stepping into the unknown but knowing that it's intention is to provoke you and prod you in uncomfortable places is the thrill of going to see stand up comedy and that power is an interesting dynamic for someone whose style of stand up was honed during stints in prison. When he arrives and stands on stage Siddiq wields a power that is light years away from his life as a prisoner. He's the boss.
Personal pathos and observations are balanced with Siddiq's humorous insight on some of his darker moments
Serial, Ear Hustle and Endless Thread have evolved the way people are digesting darker truths or someone's own truth and we all know the truth is easier to eat when you're laughing. Surprisingly, however, Siddiq's routine doesn't delve too deeply into the darkness he must've faced behind bars. Instead this feels like an intro to his style and perspective on the world, which for most of the audience and me, hit all the right notes.
The set is intimate and immediately captivating as he riffs on Racoons being the most disrespectful of God's creatures. This feels like a throwaway warm up gag but eventually evolves into an observation on race and how his new life in a nice neighbourhood with "nice" white neighbours can have its drawbacks.
Tying this joke into something with mirth and meaning is a craft that eases the audience into proceedings and soon he is dropping fire fast and furiously. His interaction with a few members of the audience at the front row (they obviously didn't get the memo) is almost funnier than anything that comes after, namely because Siddiq's victims make it so easy for him to focus on the flaws in their behaviour. A bag of crisps and the mention of their kids and marriage are ample ammo for him to take them to task and raise the volume of the audience's laughter. This is all done in good nature but it's a welcome part of his style that encourages a little audience participation and breaks down any BS and nerves.
A later joke about what not to say to someone who says "I love you" is probably one of then sharpest, as is one about no one having ever clocked how fast fear is. Personal pathos and observations are balanced with Siddiq's humorous insight on some of his darker moments, his crimes and dangerous past but he makes no bones about it, offering up the truth about him in a way that all comedians can and should do when they take the stage, with zero f***s given.
When he arrives and stands on stage Siddiq wields a power that is light years away from his life as a prisoner. He's the boss.
Finally he asks the audience if they have any questions. A woman at the front, whom I spotted in the bar and wondered what she was going to see, is the first to pipe up and ask, "what's trapping?" This brings another huge laugh, mainly from those that know the answer and so he ends the night with a story about his trapping days that is dope and brings everything together by touching on earlier material.
Watching Siddiq's use of body movement and collection of characters, and listening to his vocal delivery I felt there were shades of some true Def Comedy Jam greats; Martin Lawrence, Eddie Griffin, Dave Chappelle and the late Bernie Mac but Siddiq feels like a performer firmly moving forward, especially when talking about his family and how they figure in his appreciation of his freedom.
A longer show with a little more depth and an arc would've been cool, particularly as there has never been more to talk about and poke fun at but seeing a comedian have some fun and feel his way around a crowd of newbies felt like the right way to get on his ride.
Siddiq's Comedy credits are being accumulated steadily and shrewdly. He first came to prominence when he appeared on HBO's Def Comedy Jam and Live from Gotham. In 2013, he was named Comedy Central's "#1 Comic to Watch", later captivating audiences with his "Mexican Got Boots On" tale, a descriptive storytelling of a prison riot on Comedy Central's This is Not Happening, which has received 5 million hits on YouTube. His stories continued with his Half Hour special, which premiered on Comedy Central in 2016.
So with that in mind I'm going to jump in and make sure I catch him when he comes back to good ol' Blighty and maybe I'll take a seat at the front next time.
NEED TO KNOW: Ali Siddiq is at Soho Theatre until 3 November 2018 | book tickets