The House That Will Not Stand – review
Tricycle Theatre
Published:

Friday, October 24, 2014 11:59 PM

| Review by: Gillian Fisher |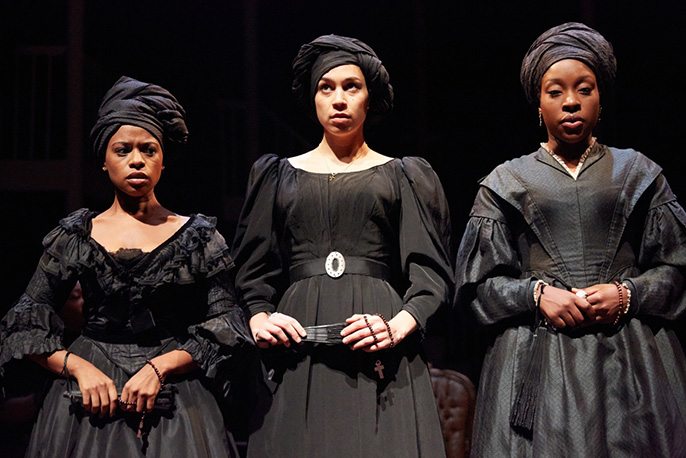 In a sumptuous parlour where pralines are nibbled and needlework practiced, a corpse lies rendering in the New Orleans heat. Deceased financier Lazare leaves behind three daughters and their inexorable mother Beartrice played by Martina Laird. As his mistress, Beartrice has no legal entitlements to Lazare's fortune and her family's fate hangs in the balance. In Marcus Gardley's historical drama we enter the kaleidoscopic terrene of 1836 Louisiana. A world where European sensibility meets African tradition in an amalgam of cupidity, dichotomy and magic. Directed fervidly by Indhu Rubasingham, a remarkable cast explore the complex roles of coloured women in the Deep South. As Beartrice battles with her daughters and her own conscience we discover what happens when the dead refuse to remain silent.
There are so many issues at play in Gardley's work, not least the limitations of gender and colour within nineteenth century America. Specific to the Southern states was the system of plaçage; where women of colour could be provided for as the legitimate mistresses of European merchants. Yet this is still a market of flesh and Beartrice is determined that her own daughters will not be reduced to a price. Laird is phenomenal in the role; an imposing matriarch with every sinew tightly coiled. Her grim resolve is palpable as she speaks through gritted teeth with the over enunciation of affected gentility. The three daughters all fall into a synchronised line under this taffeta draped drill-sergeant. On the cusp of womanhood, the teenagers crave romance and independence, especially Agnes played by Ayesha Antoine. Stoic and frustrated she is intent upon being placée to a particular French socialite. Her defiant quest for a beau and the whispered plottings she shares with her siblings are reminiscent of Austen's stifled heroines.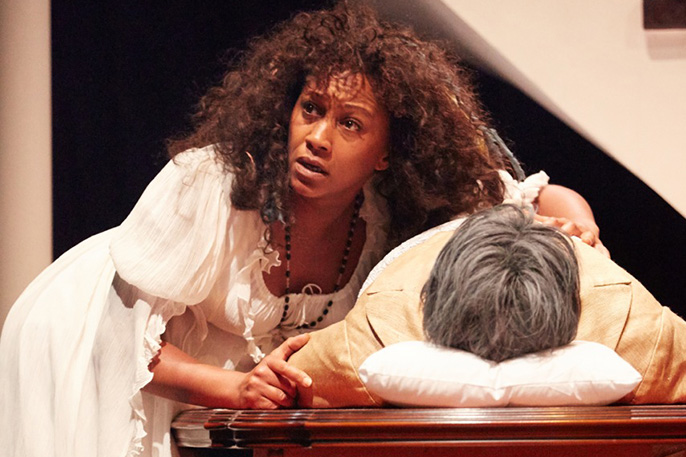 There is something of the gothic horror tradition about this production. A grand mansion full of secrets and death. The archetypal madwoman in the attic comes in the form of Beartrice's sister, Marie Josephine. Played by Clare Perkins with an ingenuous playfulness and ribbons in her hair she embodies the unbridled longing and repressed vitality of the era. This is enhanced by the mystical elements and the pervasive presence of the deceased Lazare. Gardley's use of language is nothing short of genius. The speech is fast and littered with French Creole colloquialisms and witty elaboration.
Skilfully directed, wonderfully acted and magnificently written, The House That Will Not Stand is a production bursting with spirit.


The extended metaphors throughout create a multi-layered and comical dialogue, first seen when La Veuve entreats house slave Makeda to 'pour the tea.' Tanya Moodie plays the chattel role with cognizant patience, her future freedom wrapped up in her tignon. Unlike the other women, Makeda's bondage is literal and her dreams of freedom reach to a distant continent she has never seen. The pride in having Creole heritage is somewhat contradicted by the hierarchy of pigmentation. Youngest daughter Odette played with wide eyed tenderness by Ronke Adekoluejo is considered the least desirable due to her complexion. Ideas of beauty and the dichotomy of identity are all touched upon in this play set in the wake of the Civil War.
Raucous, insightful and provocative The House that will not Stand expounds the reality of freedom within this setting. When independence relies upon the fancies and wealth of a man, freedom for coloured women takes on an altogether different meaning. Skilfully directed, wonderfully acted and magnificently written, this is a production bursting with spirit.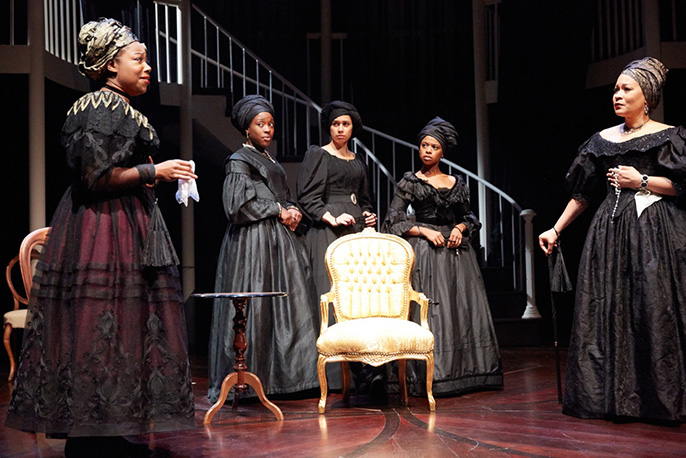 Related links