MilkMilkLemonade, Ovalhouse Theatre – review
Published:

Sunday, October 12, 2014 2:28 PM

| Review by: Lloyd Lewis-Hayter |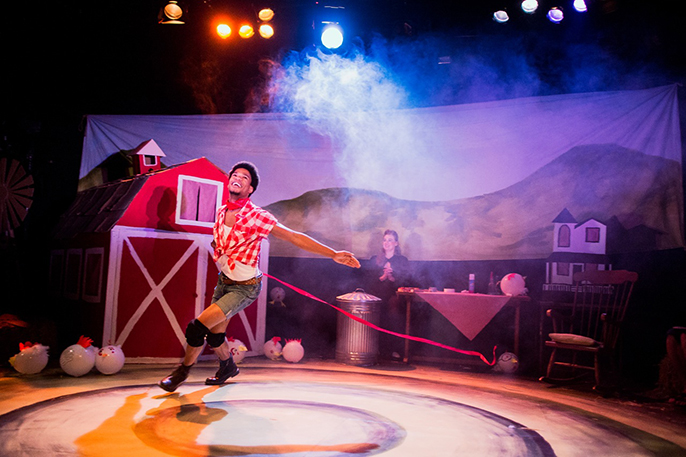 This is a play trying to be nothing else but itself and urging everyone to do exactly the same.


Sitting in a circle on haystacks we are welcomed in to the world of Emory. A young boy growing up on a chicken farm run by his no nonsense Nanna, Emory is introduced as a bored and lonely character fighting to be understood and accepted for wanting to play with dolls and dance. MilkMilkLemonade however is far from boring.
Winner of the New York Press award for Best Off Broadway Show in 2009, the play written by Brooklyn based playwright Joshua Conkel enjoyed a successful following and more than 50 performances nationwide following its New York premiere.
A playful set made up of a cardboard barn and chickens made from balloons sets the tone. Forcing the audience to think about gender from the get go, females are played by males and vice versa.
Benedict Hopper is fabulously unsettling as Nanna, and Sophie Steer perfectly portrays the agonising confusion of gender, sex and relationships while growing up as Elliot, Emory's sometimes bully sometimes playmate.
Escaping his Nanna and bullies, Emory befriends one of the chickens on the farm, names her Linda and incorporates her in to his dance routines. Hoping to win talent show Reach for the Stars and become famous, Emory treats us to a few performances, as does his Barbie doll and Linda the chicken.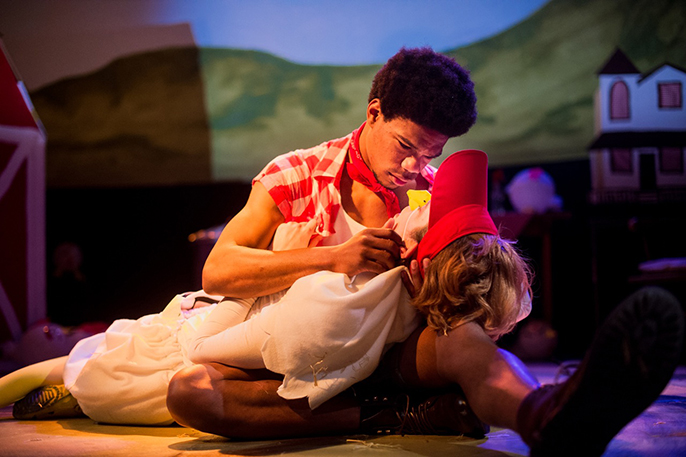 A few truly visceral moments are born from scenes of Emory and Elliot playing house, as the understanding of gender roles from a child's point of view is put under the spotlight.
Amongst all the plain silly jokes, outbursts of song and dance and chicken clucking translating, interesting moments are sometimes lost in the chaos. Exploring homosexuality without giving the main character stereotypical camp characteristics and tendencies would have been more challenging and offered more food for thought, however this is a play trying to be nothing else but itself and urging everyone to do exactly the same.