How Nigeria Became: A Story, and a Spear that didn't Work – review
Unicorn Theatre
Published:

Friday, October 24, 2014 22:51 AM

| Review by:

Uchenna Izundu

|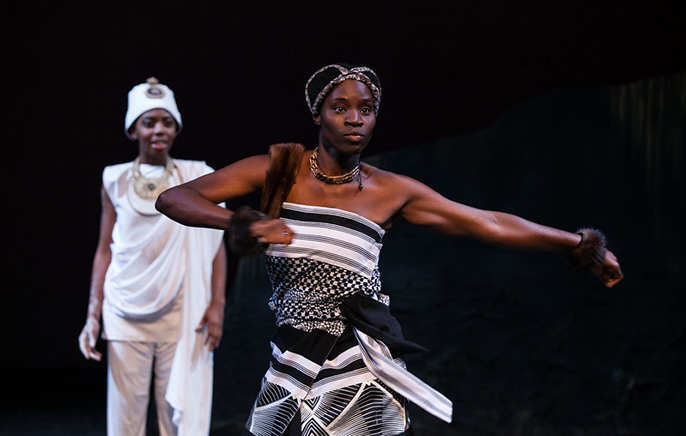 For a country celebrating its centenary this year, there is a charming childlike naivety in the folklore tale that director and writer Gbolahan Obisesan uses to illustrate how Nigeria was formed in 1914 - a political beef that is still stewing today as it verges on disintegrating. Obisesan writes in the programme: "Nigeria might cease to exist when the contract for the name will run out and mean nothing on 31 Dec 2014. The major kingdoms might just decide to no longer be Nigeria and return to feudal governance for their separate tribes. I want to say it will not come to that and everyone will agree to continue to work together, but history and recent evidence suggests that people will probably argue and fight over it."
Performed by Herbert (Tunji Falana) and his well-known troupe of female actors (Rita Balogun, Stephanie Levi-John, and Rebecca Omogbehin), the story of the Spear of Shango is about a brave young woman who must use her strength and agility to save her father's kingdom. But there's a problem, the story doesn't quite fit with the British governor, Lord Lugard's, vision of a united country.
The message is clear: stories can be rewritten to serve particular agendas. Deploying the play within a play device to comment on wider sociopolitical issues and drawing upon his Yoruba culture, Obisesan uses the gods to symbolize human flaws and competition between different kingdoms over the spear to show that investing all hope in objects does not necessarily bring prosperity and distinction to the winner. The characters in the Spear of Shango are made to come together and cooperate, rather than go their separate ways as depicted in the original version to convey a unified Nigeria for Lord Lugard and his audiences - following persistent pressure and the lining of the troupe's pockets by Charles, his colonial messenger.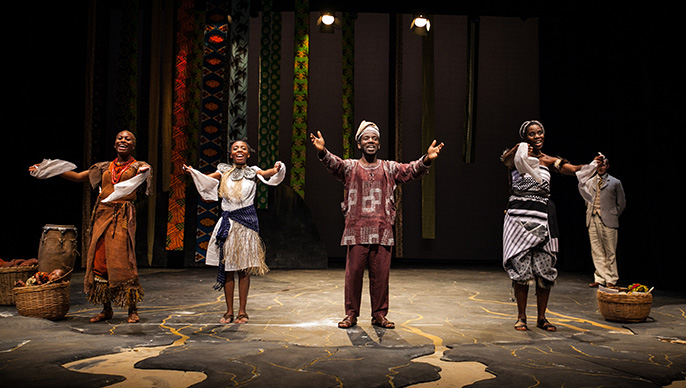 This storytelling by Herbert's theatre company is comical. Veering between subtle playing of their roles and outright Nollywood acting, they are dynamic and play off nicely against each other in revealing tribal prejudices, sexism, and greed. The confusion brought by oyinbos in changing the kingdoms' cultural landscape is clear: "I have been in five misunderstandings today," says Herbert in telling his troupe he's not sure what day of the week it is under the new British system.
Designer Rajha Shakiry has created a charming blue, yellow, and gold set that suggests the sea, sky, and the land and easily fuses the mystique of the gods and the practicalities of the mortals. And there is a wonderful infusion of multimedia by Benjamin Walden depicting the son of Shango riding away on his unicorn.
What the play lacks is real tension between the characters and the differing agendas. My main criticism is that the complexity of Nigeria has been simplified far too much - even if this is meant to be a children's production. Indeed, even Herbert and his troupe don't seem to put up much of a fight to Charles' presentation of a colonial Nigeria - windswept by the action of Lord Lugard. The narrator's assertion at the end that Nigeria has been this way "for over 100 years now and it's going OK" is too pat. Her history has been ugly and brutal - battling from colonialism to military rule to civil war and a fractured democracy today.