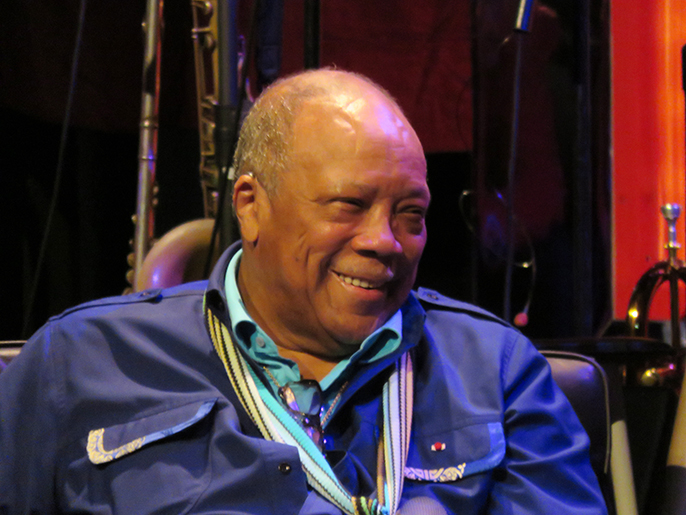 Quincy Jones is one of the most important figures in music over the last 50 to 60 years; his legacy combines and fuses all of the major elements of African-American musical art-forms (in his own words: "from be-bop to doo-wop to hip-hop"), and his philosophy encompasses love and respect for all of the world's music, cultures, languages and religions.
Starting out as a trumpet player, and developing into one of popular music's foremost producers and arrangers, his life and career has seen him work alongside (and become friends with) almost all of the great names in American popular music: Miles Davis, Charlie Parker, Frank Sinatra, Michael Jackson... the list is almost endless. Coupled with this, he is an articulate humanitarian and a tireless proponent for cultural, religious, and racial equality.
And so, at Royal College of Music's Britten Theatre, a celebration of his life and work ensued. Part concert, part on-stage reminiscence, the scene was set by a huge screen at the back of the stage, showing various snapshots of his 60-year career (damn, what a fine-looking 'dude').
At 81, his passion for work and travel remains undimmed. He has - among other things - 10 movies, and 6 Broadway shows in the pipeline!
The live proceedings started off with a medley of many of Mr Jones' most well-known productions. The superb 12-piece orchestra and four backing singers created wonderful versions of Quincy classics such as 'The Dude', 'Ai no corida', and 'Stuff like that', as well as songs by other artists that he produced, including 'Come to me' (Patti Austin and James Ingram), Michael Jackson's'Don't stop 'til you get enough', and 'Billie Jean'.
The backing singers - two male, two female - acquitted themselves well; their vocal performances (lead and backing) were clean, precise, and characterful. With the screen showing various live-action close-ups (filmed by the many cameras) it felt like a perfect mix of intimate live show and home entertainment.
There then followed a succession of guest artists who, either performed songs from Quincy's production repertoire, or simply sang tributes to the great man. It was an eclectic group of artists, and a mixed bag: Susan Black's wonderfully theatrical version of 'On days like these' evoked classic Edith Piaf. Then Sonique came on to perform 'Rock with you'; while her camp delivery seemed a slightly too 'karaoke', her enthusiasm (and the band's excellence) saved the day.
Next up, Sarah Jane Morris' gloriously stylised (and playful) take on 'Me and Mr(s) Jones' brought to mind - of all people - the wonderful Tom Waits. Sulene Fleming's 'Everything must change' - although initially too 'mannered' for my tastes - was elevated by Sid Gaul's trumpet solo, great arrangement, and Miss Fleming's impressive vocal range.
Kenny Thomas' 'Georgia on my mind' was understated and soulful (although its highlight was Kevin Robinson's great mute-trumpet solo), and Beverley Knight once again showed that she can blow (and riff) through anything, as she tore through a version of 'Sweet thing'.
Ex- Average White Band- member, Hamish Stuart came on to sing 'If I Ever Lose this Heaven' ; oh dear. As much as I appreciate his (past) skills, somebody needs to tell him that other keys are available, and that he really doesn't have to sing up there anymore.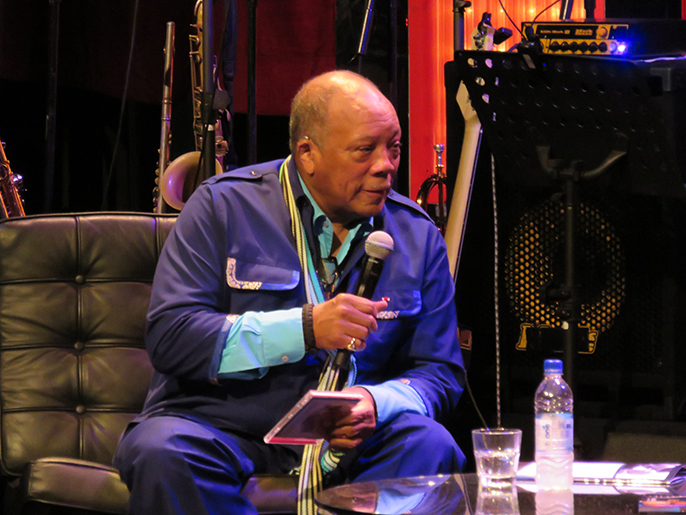 A chair was then brought out, as Jocelyn Brown sat (Solomon Burke-like) through a spirited 'blues holla' of 'Do for love' - the song building to a great crescendo.
The climax - and highlight of the musical section for me - was the amazing Mica Paris; if ever there was a British soul singer to rival the Americans, it's the divine Miss Paris. Using just her tone, timing, and (gospel-influenced) technique, she simply nailed 'You put a Move on my Heart'. And yes... she did!
We got a series of loosely-connected anecdotes delivered with charm and good-humour.


At this point, the musicians left the stage as a table and two chairs were brought on, and - after a vase of flowers was removed from the table - DJ Paul Gambuccini entered to introduce our subject. With his almost-encyclopaedic knowledge of 'popular music', Gambuccini has - for almost 40 years - resembled a more mainstream John Peel; with his ex-pat - American credentials and charming, clean-cut image, he seemed almost like 'Hendrix-in-reverse'.
Having obviously been told it was 'Dress-down Sunday', the casually-attired raconteur gleefully displayed his afore-mentioned 'anorak-wearing tendencies' by regaling us with just some of Quincy Jones' many achievements (27 Grammy Awards, first producer to be performed in space, etc).
Being well aware that this list was uber-long, and that Gambuccini's love of lists - and other music-related anecdotes - knows no bounds, I was beginning to despair somewhat. So it was with great relief that I saw one of the stage hands politely ask him to 'get on with it'; and, without any discernible drop in charm, he did. So, finally - with Gambuccini sitting opposite him asking the questions - we found ourselves in the presence of the great Quincy Jones.
As all charmers do, he started off by flattering his hosts; he let it be known that, in the US (where so much emphasis is placed on 'The Now'), respect for the great American musical art-forms (Blues, Jazz, Soul, etc.) was nowhere near what it is in Europe and the UK.
He bemoaned the fact that there is no such thing as a 'minister of culture' in The States [which says a lot about the country's respect for black creativity], and that only 12 per cent of US citizens owned passports - of which only 6% of people use them to travel.
He then went on one of his many informative 'flights-of-fancy', taking in - amongst other things - the origins of Rock 'n' Roll (Louis Jordan, Lionel Hampton, King Curtis), the musical connections between the poly-rhythmic West African and the oral/vocal East African traditions, the birth of so-called 'rap' (dating back to 1939 Chicago), and - last but not least - his 'astral twin' being a certain Michael Caine.
At 81, his many stories are, no doubt, as vast and as plentiful as the A-list entries in his address book (as he himself said - 'I could go on'). Of course, he is an old- fashioned gentleman and, if a lack of salacious gossip was to be expected, it is to his credit that he has not a bad word to say about anyone.
Instead, we got a series of loosely-connected anecdotes delivered with charm and good-humour; amongst them, we got to hear that - in the lead up to the 2008 Beijing Olympics - the Chinese organising committee, in order to disperse the pollutant clouds above the stadium, ordered the firing of 11,000 missiles into the atmosphere. Result: instant blue skies - problem solved!
Another thought he shared was that, despite there now being 98 per cent piracy of music (he had 'neither the time nor inclination to sue everybody'), he forecast that 'ultimately, the music business would end up stronger' as music-consumers came to realise that 'payment to artists was a moral issue'.
At least he is honest - and self-deprecating - enough to admit that not all of his forecasts come true; in 1964 - having seen The Beatles - he made a bet that they would not strike it big in The States. Apparently, only last week he had a good laugh 'over dinner with Sir Paul McCartney MBE' about that one.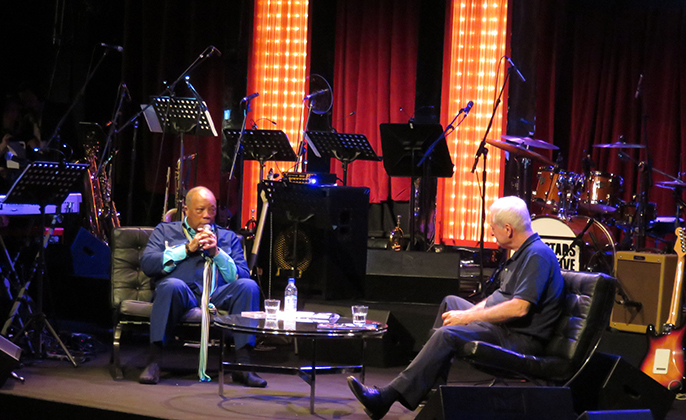 At 81, his passion for work and travel remains undimmed ("Retirement? What would I do... get bored?!"). He has - among other things - 10 movies, and 6 Broadway shows in the pipeline!
His love of communicating with different cultures still burns brightly; he is 'on his 27th language'! He certainly communicated many things to the audience: "Don't look down on someone unless you're reaching down to give them a hand." When asked how to get such 'warmth and depth' in a studio sound, he replied "Get a great engineer"! On technology, he had this advice: "Pro-tools is great but, if you don't know what you're doing, you'll end up working for it, rather than the other way round."
At this point, Jacob Collier - a talented 20 year UK-based multi-instrumentalist Jones himself is promoting - came onstage, with his bass player and drummer, to perform 'Misty' on piano. Very nice.
After which, Jones was joined on stage by song-writing legend, Rod Temperton. Their love and respect for each-other was palpable and they took great delight in regaling us with tales about themselves ("Neither of us can drive"), and about their work together ("For 'Thriller', we sifted through 880 songs to choose 9.").
After Kanya King OBE came on to induct Jones into the 'MOBO Hall of Fame', all that was left was for the band - and most of the guest singers - to re-enter the stage, and for a school choir to lead us back to 1985, as they performed a version of 'We Are the World' (not my favourite Quincy production).
It felt like an overly-saccharine way to finish the proceedings but, in the end, everyone seemed happy - none more so than the eternal optimist, Quincy Jones; so, what's the issue? As he said: "There are no problems - only puzzles to be solved".
Thank you, Quincy Jones for the memories and the dreams!
Info: An evening with Quincy Jones was at Britten Theatre, The Royal College of Music on September 28, 2014