Thriller Live, Lyric Theatre – review
Published:

Tuesday, October 29, 2013 5:21 PM

| Review by:

Gillian Fisher

|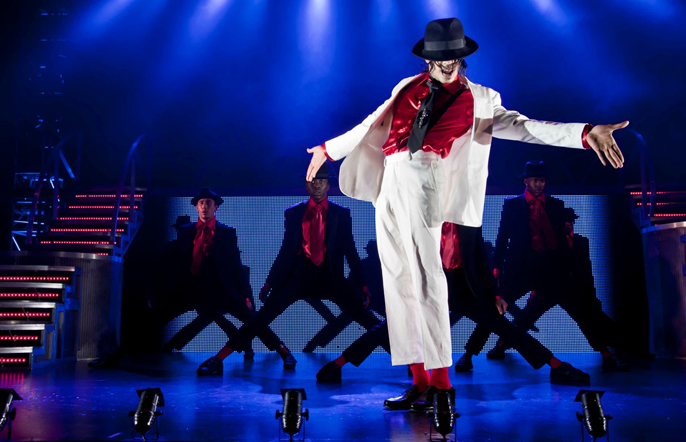 Thriller Live has been delighting London audiences for 2000 body popping, fedora wearing, octave shattering performances. The secret to the show's longevity was quickly divulged as outstanding vocals, spectacular choreography and some vigorous choreography filled the stage. A troupe of talented singers including Ultimate Kaos frontman Haydon Eshun and Nu-Soul lead Andrae Melody Palmer belt out Michael Jackson's greatest hits in this off the wall show.
The show is a chronological travail through Jackson's musical career, kicking off with Jackson 5 classic ABC. Fronted by mini Michael Eshan Gopal the cuteness factor went off the scale during a live rendition of I'll Be There. As Soul gives way to Disco and sequins start to dazzle, Don't Stop 'til you Get Enough had the audience boogying in their seats. With a total of six lead singers stretching their vocal chords to the limit the production embodies a diversity which sets it apart from a standard tribute show. In fact it is rather difficult to categorise the evening; part concert, part musical and part Michael Jackson fairground tour with full audio description. Resident Director Britt Quentin acts as narrator, bouncing onto the stage to provide some background MJ trivia as well as adding his own high notes to several numbers. My personal favourites were the choral numbers; particularly a beautifully paced Man in the Mirror in which different verses were sung by the leads building up to a soulful climax.
Created by MJ aficionado Adrian Grant, Thriller Live showcases the various contributions that Jackson made to modern culture, not least of these being his eccentric fashion sense. Costume company Shooting Flowers designed the melee of incredible outfits for the show, ranging from neon 80s sportswear to military inspired drummer boy uniforms. The prototypical MJ look is sported by David Jordan in an ankle swinging white suit, complete with red shirt and taped fingers. Bringing a slight feel of Stars in their Eyes to the proceedings, Jordan's knee jerking, crotch grabbing dance moves are phenomenal as he moonwalks to rapturous applause. There is no shortage of high end visuals in this production, with showy projections and lighting effects designed by Nigel Catmur. This really comes into play during numbers such as Smooth Criminal and Bad which recreate the scenes and moves from Jackson's original music videos.
Any show paying homage to the King of Pop has to include some pretty nifty dance moves and the crew of pretty young things give their all in a series of tightly choreographed numbers created by Gary Lloyd. There are plenty of high speed pirouettes and hip thrusts executed as well as some phenomenal break dancing and hip hop sequences. As the only female singer, Pop Idol finalist Zoe Birkett adds some glamour to the show and also demonstrates an incredible vocal range, crooning and 'hee hee-ing' to perfection.
Capturing the essence of Michael Jackson's versatility and raw talent is no mean feat but this production has achieved it. Each song is performed with fervour and the attention to detail is superb. This really is a show for all the family, with plenty of audience interaction and jaw dropping theatrics. West end razzmatazz at its very best. A non-stop night of entertainment inspired by a boy from Indiana whose legacy lives on through his music.
Related Links
Thriller Live - review, Feb 2013
Thriller Live launches academy to train young Michael Jackson performers
Thriller - Live sells 1,000,000 tickets and celebrates starting its 5th year in the West End