The Legend of Mike Smith – review
Published:

Thursday, October 3, 2013 1:57 PM

| Review by:

Ronke Lawal

|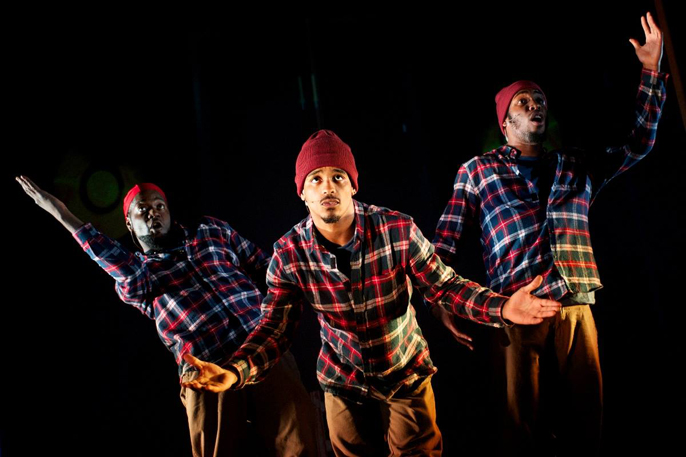 In the opening sequence of this thought-provoking production we meet Mike Smith, a young energetic rapper with high hopes for the future. Upon receiving the call every would-be musician longs for from a record executive keen to sign him, Mike falls asleep and enters a disturbing dream sequence, in which he is faced with the images of Lucifer and a Dark Lord. It is clear that the realisation of Mike's ultimate dream will make him face up to many internal demons and struggles. We meet his alter egos as he battles with the Seven Deadly Sins, which distract him along his journey to success. Envy and Lust were represented particularly strongly, exciting the audience through strong imagery and choreography courtesy of Jonzi D.
The use of animation, dance, jazz musical scores and hip hop lyricism from Soweto Kinch really bring this production to life. It is a truly interactive experience for the audience who are encouraged to use social media to converse with Soweto Kinch during a rap battle segment of the production that had an audience member reliving his inner "8 Mile/Eminem".
The Legend of Mike Smith is exciting and eclectic - a daring and original performance, which is worth experiencing.
As I get older I love jazz more and more and having grown up loving hip-hop this production would have been a superb amalgamation of the two musical forms in principal. The performances were strong, the story line was clear and the production was well organised. The hip hop lyricism was exceptionally strong, lovers of real music will enjoy Soweto Kinch's performances here, I particularly enjoyed his take on capitalist greed and desire. Where it fell short was perhaps the timings of each act, some distracting focal points and a somewhat over-stretched emphasis on the rap battle scene. That is not to say it was not enjoyable, however at the very point at which one empathises with the central protagonist one became distracted and lost in the hip hop hype so to speak. The use of demonic figures served to accentuate the inner struggle of a man's ego, though there seemed to be a pre-eminence of them in some areas that again distracted form Mike Smith himself. There was a wonderful scene in which one of the alter egos represented Lucifer which was a strong and poignant scene, the animated representations were at times over done.
Overall I have to say that this was a truly exciting and eclectic performance and particular credit must be given to all 3 Mike Smiths Ricardo DaSilva, Tyrone Isaac-Stuart and of course the phenomenally talented Soweto Kinch and his band. This was a daring and original performance, which is worth experiencing, if a little too much in areas but then who's to say that there can ever be too much of a pretty good thing!
---
Related links