Routes, Royal Court Theatre – review
Published:

Tuesday, October 8, 2013 11:38 AM

| Review by:

Gillian Fisher

|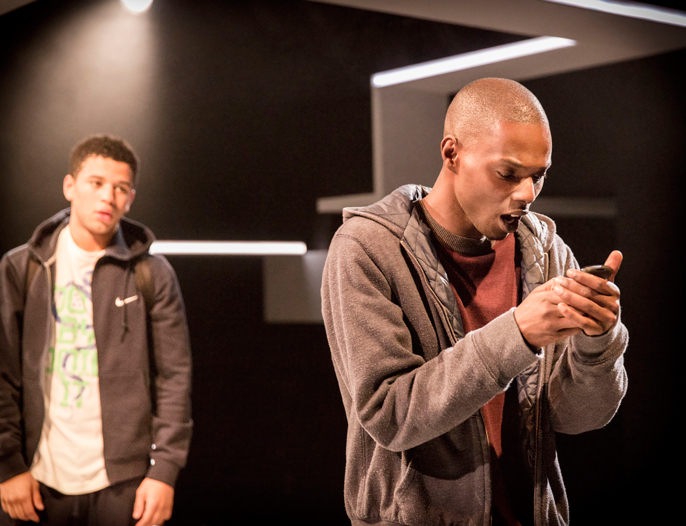 Britain. The three cornered island called home by 63 million people. And counting. Rachel De-lahay's political new drama examines the controversial subjects of immigration, citizenship and nationality from a range of perspectives. In this ardent 70-minute play we follow the journey of a Nigerian man trying to gain entry to Britain. A Somali teenager facing deportation and an H.M Immigration worker who considers lorry loads of Kosovan infants part of her daily routine. As the anomalies of British citizenship are exposed through a series of critical dialogues we are faced with the difficult question of belonging. What happens when the place you call home slams the front door in your face and leaves you shivering on the doorstep?
The six characters in this talented cast each represent a distinct faction of British society. Anka, played with sensitive composure by Anamaria Marinca, is a British citizen originally from Poland. Having made a life for herself in the UK she now supports young people facing deportation. The paradoxical relationship she has with teenager Bashir is fantastically canny. Bashir has no memories beyond an east London childhood but being born to Somali parents he has no right to remain. Fiston Barek is exceptional in the role; the polite generosity of a person who has faced many obstacles yet still has a childlike need for love. The interplay between himself and Kola is the slang-laden embodiment of teenage banter. Calvin Demba makes his stage debut as Kola and captures the unblinking belligerence of adolescence superbly. British and mixed race, his original distrust of Bashir as a Somali gives way to a mutual respect and affection.
There is a strong sense of polemic to this production, which is enhanced by the concentrated direction of Simon Godwin. The combative element is emphasised by the square central stage, which gives the impression of a boxing ring. An unexpected source of debate comes from Abi; the Lagos immigration agent who provides Femi with a false passport and backstory. Considering his line of work Abi, played by Seun Shote, is strangely nationalistic; challenging Femi on leaving Nigeria for a menial job and grotty bedsit. This is picked up on in the script; Femi explains his reasons for leaving are less about himself than the opportunities it will grant his family. Peter Bankolé plays Femi as determined yet realistic. He is prepared for impersonal disregard he will face at the hands of people like Lisa played by Claire Lams, a British immigration official whose own family breakdown has left her with little time for human sentiment.
De-lahay's shrewd mix of characters and thorough research allows a comprehensive insight into the subject of national identity. The reality of a person's right to a life in the UK determined by inconsistent legislation is chilling. The play also reveals the inherent prejudice and divides within our society; a hierarchy of 'Britishness.' The accomplished cast make this a hugely affecting production as we cross our fingers that the routes they take will deliver them to where they want to be.


Info: Routes is at the Royal Court Theatre until October 12, 2013 | Book tickets