Calling Mr Robeson, Tristan Bates theatre
Published:

Friday, October 25, 2013 9:10 AM

| Review by:

Natalie Twum-Barima

|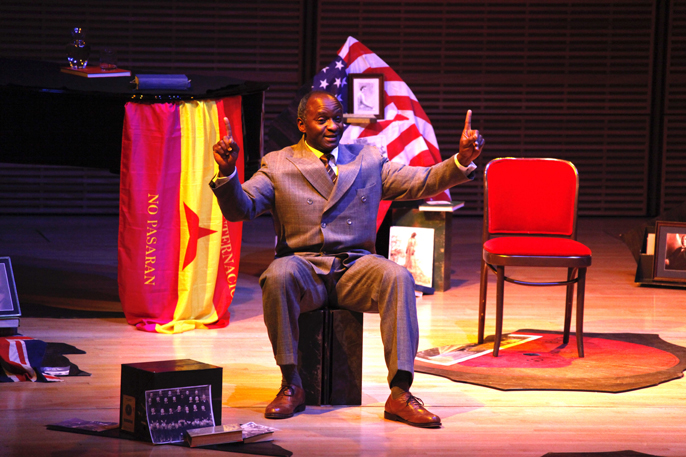 Calling Mr Robeson opens with a solo pianist playing keys to a classical piece, followed by a singing Mr Robeson entering the stage with a soulful song and a chair grasped over his shoulder, to depict the struggles he carried. The stage is ordained in Welsh and American flags and photographs, which we later learn are artifacts close to Mr Robeson as they represent his travels and his relationships with friends and family.
Tayo Aluko, the play's performer and producer forms part of the four week festival being held at the Tristan Bates theatre.
The play is clearly mapped out to walk the audience through his introduction to his newly found wife, Essie and various other women throughout his years, despite being married. The audience is also walked through the juggling of Mr Robeson's life growing up as a football player, an actor, singer, politician and family man.
His faith in God helps Mr Robeson overcome such issues as having his passport confiscated, standing up to the Government for not allowing black artists and scientists to leave the country for gatherings and being followed by the FBI.
The audience is also drawn into Mr Robeson's challenges and levels of discrimination experienced in the parts casted in his acting career, as a black man.
From a technical perspective, the ensemble of songs and lighting help to paint scenes in Mr Robeson's life and helped the audience empathise with his passion for helping black society overcome their struggles.
His position at the time he was alive is recalled when he pays homage to the opportunity he had to meet Malcolm X, before he was killed. The play also refers to various leaders that helped inspire Mr Robeson at the time, such as Mandela, Martin Luther King, Harriet Tubman and his dear father – whose words of wisdom helped build the courage and determination he used to eventually gain access to his passport.
Having likened his story to Daniel in the lion's den, there is no doubt Mr Robeson's passion, bravery and persistence has been portrayed by Tayo Aluko in Calling Mr Robeson.
Info: Calling Mr Robeson is at the Tristan Bates theatre until October 26, 2013 | Book tickets