Adult Supervision, Park Theatre
Published:

Sunday, October 20, 2013 12:38 PM

| Review by:

Gillian Fisher

|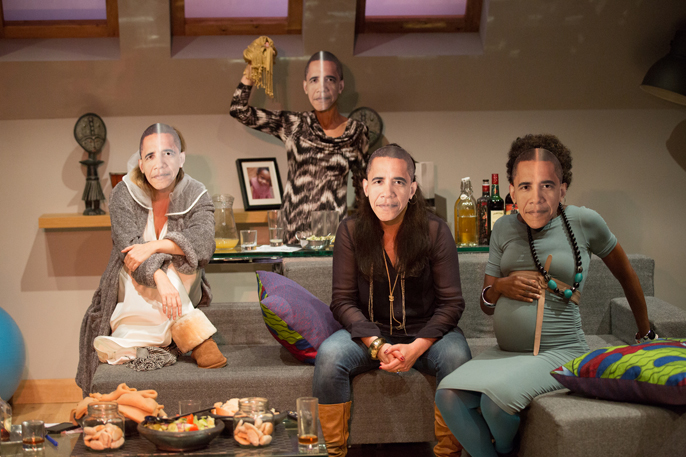 It is November 4, 2008 and Natasha is honouring the momentous US elections by throwing a party in her plush London abode. As a white mother of two adopted Ethiopian children she hopes to use the historical occasion to broaden her social circle. Filling the room with carefully placed African artefacts Natasha invites her three guests to help themselves to the Ethiopian dips. But as tongues are loosened by Obamatini cocktails the sophisticated soiree descends into controversial chaos. Sarah Rutherford's new work plunges headfirst into Britain's simmering melting pot debate and humorously exposes the old and new grievances that remain thoroughly unthawed.
The savvy writing and razor sharp direction from Jez Bond make Rutherford's play a buttock clenching parade of social awkwardness. Susannah Doyle plays Natasha as the epitome of middle class uprightness with some fantastic physical clowning. She's read every book on modern parenting and insists on her guest's discretion about her owning a television. Her desire to be a part of the 'in crowd' meaning mothers of non-white children, smacks of the playground. The schoolyard politics are further enhanced by Izzy played by Olivia Poulet. As Natasha's number one fan with her foot constantly in her mouth she gives her supposedly best friend plenty of opportunity to prove her cultural superiority. Poulet's exaggerated reactions and frequent backtracking make her a desperate but rather identifiable character; the girl eating her sandwiches alone behind the toilets.
There are a lot of subjects touched upon in Rutherford's debut play; motherhood being a key player. The different approaches of the four women give rise to competitive point scoring and obvious disapproval. As the only non-London native, Mo played by Amy Robbins is the most forthright character with a hands on approach to parenting. As a white mother of three mixed race children she is constantly on the defence and ready to pounce. The lack of acceptance Mo has encountered from her husband's family is something black guest of honour Angela can identify with. Married to an older white man, Angela takes the patronising advances of Natasha and Izzy in her stride. Played with composed geniality by Jacqueline Boatswain, Angela is by far the least racially motivated of the group. Heavily pregnant and mother of one, her concerns are less about skin colour and more about the universal struggles of motherhood.
Rutherford's writing pulls no punches; the veracious effects of alcohol allow the characters to speak the unspoken. Issues of identity and the complexity that arises from dual culture is explored from several perspectives. There is an element of farce involving people falling over and pyjama clad rants which lightens the tone of the intense social analysis. The strong cast expound our obsession with political correctness with lashings of female rivalry. A witty and perceptive play that questions whether a black man in the White House really means unity in the school playground.
Info: Adult Supervision is at the Park Theatre until November 3, 2013 | Book tickets