Hugh Masekela and Sibongile Khumalo in Songs of Migration, Hackney Empire
Published:

Friday, October 19, 2012 10:18

| Review by:

Uchenna Izundu

|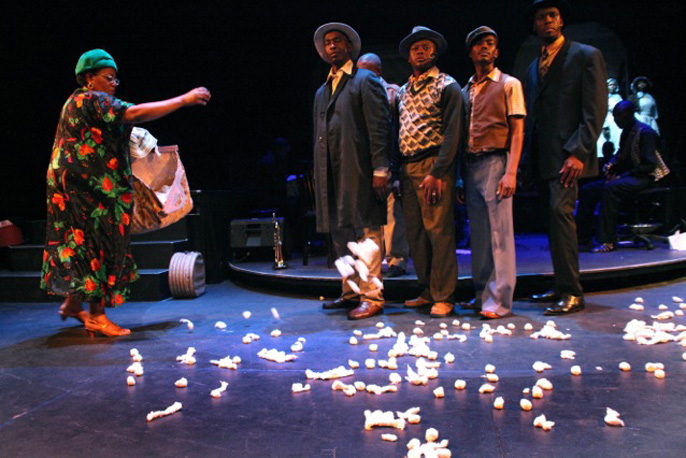 By the time one finishes reading the biography of the award winning South African Hugh Masekela, political activist, trumpeter, bandleader, flugelhornist, composer, and singer – the only reaction is: wow – just one human being? He has worked with the late South African songstress Miriam Makeba, Paul Simon, Stevie Wonder, Fela Kuti, Marvin Gaye, and U2. As part of the anti-apartheid campaign Masekela was exiled to the United States in 1961 where he was befriended by Harry Belafonte.

The spitfire energy of this 73-year-old musician whose formidable work ethic makes me feel ashamed I'm not doing hardcore overtime is encompassed in Songs of Migration – a piece of commanding political musical theatre that explores what it means for African people to migrate and the effects this has on the human spirit. Earnestly seeking fame and fortune in South Africa's mines, families were broken and love lost as sweethearts, friends, relatives wait in vain for their loved ones to come home.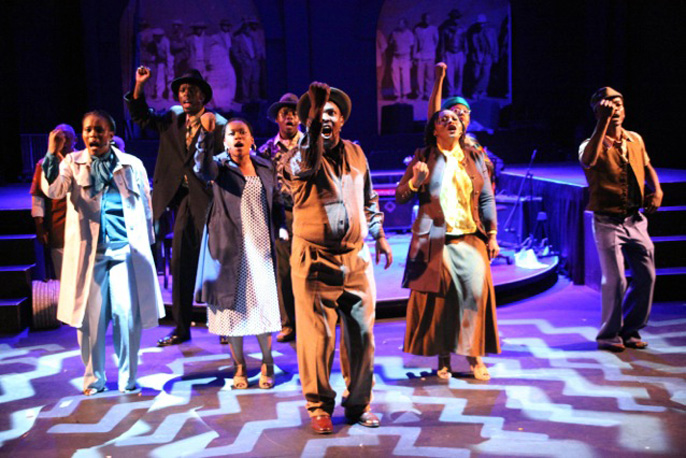 Sinewing onstage in a vivid purple jacket with his flugelhorn, Masekela grabs all attention as he ripples dance moves reminiscent of jive, samba, and traditional African dance. It is clear to see that in his younger days this was a man who got down in the club into the early hours of the morn. At the end of the 95-minute show, I was determined to seek out a good deal on cod liver oil tablets to supple my joints so I could emulate him.

Accompanied by the charming Sibongile Khumalo, another South African singing legend, the two share reflections where swarms of rural dwellers flock to the cities along with other Southern Africans. And, of course, there is the devastating migration of Africans to the shores of the US to pick cotton, build that empire, and be left with very little of the wealth today.

Why is it that so many Africans all over the world are still living in abject poverty, Masekela rages? In this UK premiere, the audience can only murmur in agreement as the Sibojama theatre company raise stirring melodies in English, Xhosa, Zulu, Sotho, Tswana, Tsonga, Pedi, and Afrikaans. It produces an eclectic and emotive mix of harmonies, clicks, and clucks. In particular, the four male singers are stellar in this show.

But it is difficult to remain in the spirit because there is no interval and for those of us who don't speak any of the languages, the meaning and stories are lost. However, Songs of Migration draws upon a musical score comprising Masekela's work and that of Joseph Shabalala, Dorothy Masuka and Miriam Makeba amongst others. Its tentacles reach to Ladysmith Black Mambazo's Nomathemba, fusing old gospel of the American South and invoking the Naija spirit with Fela Kuti's Languta, before returning to South Africa for the finale. Packing a powerful punch, it starkly reminds that even the smallest step in a journey can have a devastating effect.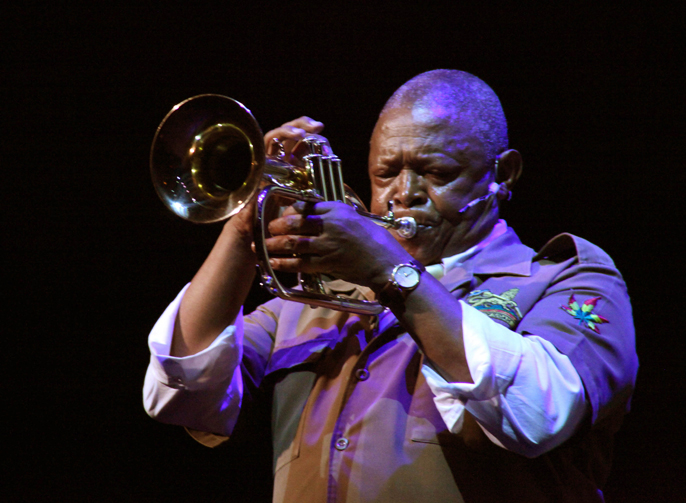 Related Links
Hugh Masekela was at Hackney Empire from 10-14 October 201