Sibikwa African Orchestra at The Albany, AfroVibes Festival
Published:

Thursday, October 11, 2012 16:38

| Review by:

Uchenna Izundu

|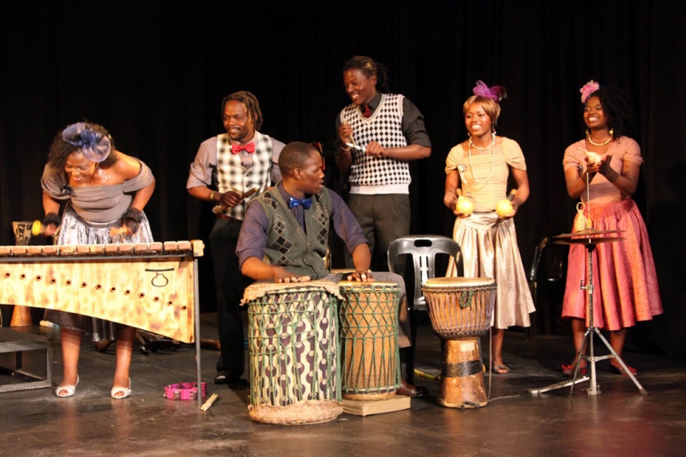 Encouraging the audience to get down and swing, South Africa's award winning Sibikwa indigenous orchestra is a charming ensemble comprising large wooden xylophones, what looks like blackened elephant tusks (kudu horns), a sax, drums, and the enthused lead singer Bebe Shongwe who leads the group from Afrobeat to Marabi and township jazz.

Upon opening the one hour show, the first surprise is that considering they describe themselves as an indigenous orchestra they do not wear traditional clothes, instead preferring dinky bow ties, muted grey and gold, and hair pieces that hark back to a 30s/40s era. It is the decoration of white spots on the sides of their faces that imbues the African heritage.

It is a somber opening with chanting behind the curtain that builds up to reveal the two female members, Thandi Dube and Esther Maumela, burst onto the scene beating the drums, which are typically thought of men's instruments. By the time they finish their performances, I want to give them a hand massage and luxury hand cream.

The instrumental veers from being poignant, interspersed with vocal murmurings that resemble animals in the wild, to up tempo, and catchy. The Xhosa performance poetry is particularly impressive from Siyabulela Sifatyi where one marvels how he spits forth his splurge of tongues without swallowing spit. As the performance progresses, it becomes more evident that the ensemble is having great fun – particularly when Thokozane Nsibande, the orchestra leader, comically introduces his members.

As the closing act to the Afrovibes festival at the Albany in south London, it effectively blends the old and the new influences to showcase edgy and provocative work on what it means to be is a south African in today's complex and dynamic world.


Info: The AfroVibes Festival is on tour to Aberystwyth, Birmingham, Liverpool, Nottingham, Cardiff, Hereford, and Manchester until October 20, 2012