Red Velvet, The Tricycle Theatre
Published:

Friday, October 19, 2012 10:54

| Review by:

Gillian Fisher

|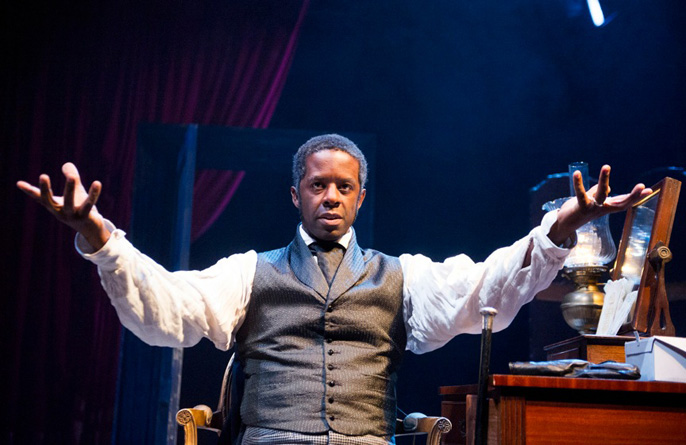 Lolita Chakrabarti's new play Red Velvet examines African-American actor Ira Aldridge's first appearance on the 1833 London stage and the outrage that followed. Adrian Lester plays Aldridge as an iconoclastic young man who challenges the established Kemble drama style of the 19th century west end. His naturalistic and tactile approach shocks the London critics almost as much as his skin colour; an initial condemnation which will haunt Aldridge throughout his esteemed career.

The Tricycle's first production under the new artistic direction of Indhu Rubasingham has set the bar at a considerable height. A biographical work which delves into the prejudices and social orders of the bygone age offers a challenging dramatic piece to the audience. Set in a time when London streets swarmed with abolitionist protests and women still knew their place an American actor performing Shakespeare was an anomaly; a black American actor was sheer travesty. Chakrabarti's intelligent writing establishes Aldridge as an outsider largely based upon his innovative style of acting rather than simply focusing upon racial intolerance. The hurried rehearsal scenes which see a dynamic and expressive Aldridge surrounded by a cast frozen in their statue like pose captures the juxtaposition between old and new stunningly and with exceptional comedy.

Lester's portrayal of Aldridge is remarkable. Charismatic and dauntless Lester plays the role with buoyancy which masks an aggressive obstinacy. The affability of Aldridge as a 26-year-old idealist is strongly contrasted with the imperious and foreboding man he would later become. At the age of 60 in his Lodz dressing room he nonchalantly orders young journalist Halina around and quotes from his celebrated reviews.

A hugely talented company, Charlotte Lucas plays theatre veteran Ellen Tree with a flamboyant theatricality so essential to her role. Her agitated excitement at the direct physical contact with her leading man is hilarious. Eugene O'Hare is wonderful as the dapper French theatre manager Pierre who spins around the stage with exaggerated hands on hips posturing. Despite his stylised character his role is not limited to light-hearted continental cliché. The scene where he delivers the damning opinion of the theatre board to Aldridge throbs with intensity as O'Hare visibly trembles.

A multi layered production overflowing with social significance; the historical locale of Aldridge's tale is absolutely vital. With the Slavery Abolition Act signed in the same year, and the revolutionary politics of France bubbling away the western world was on the cusp of a new status quo. Aldridge's struggle to be accepted as a talented actor in an industry clinging to tradition is indicative of so many social grievances of the period. With stunning performances, skilful direction and excellent writing this new play undoubtedly achieves the Tricycle's goal of telling untold stories, and what a fascinating story it is.
Related Links
Afridiziak Theatre News interview with Adrian Lester
Indhu Rubasingham launches her inaugural season at the Tricycle
Afridiziak Theatre News review One Monkey Don't Stop No Show