Dangerous Lady by Martina Cole, Theatre Royal Stratford East
Published:

Saturday, October 27, 2012 1:23 PM

| Review by:

Shari Bollers

|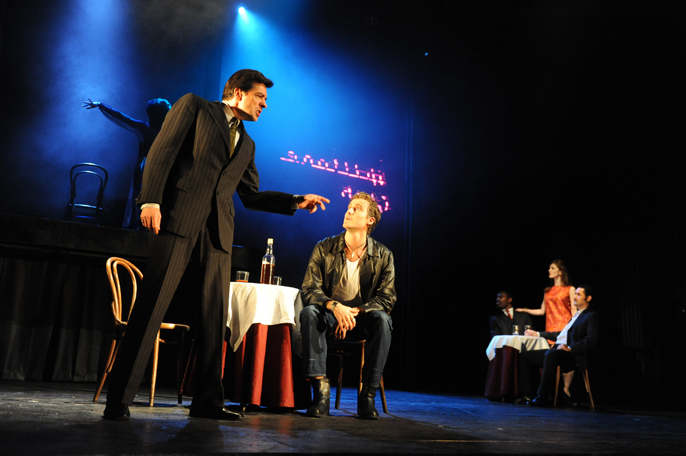 What do you do when you are from an Irish gangland family and you find yourself young and pregnant by a copper? This is the fate for our poor protagonist Maura, who finds herself torn between the men in her lives her brother Michael (James Clyde) and her lover Terry (Paul Woodson). Maura is played brilliantly by Claire-Louise Cordwell, whose life is turned upside down and changes her from the sweet young girl she was.

This story is about Maura, her family and her loves. Spanning across four decades, from 1950s up to the 1980s helped creatively along by the music and props. We see how Maura enters the world up to the end where she wants to change it. The scenes are often fun and witty if not sad on occasion.

The first act of this play had me gripped the most. It was the united family, with Mother (Veronica Quilligan) at the helm with her stern ways and big brother Mickey with own ideals about life even if sometimes warped. In this act you get to see how the characters start out and how catalytic decisions not made by you can rock the very foundations of your relationships.

When Maura finds herself at 17, dumped and pregnant apparently mother knows best. Her mother decides the best thing to do would be to get rid of it. Maura's mother takes her to a back street abortion, which we the audience gets to witness the harrowing ordeal. Maura of course is forever changed.

Rather than having one more person make the important decisions in her life, Maura does it herself. No longer is she shy and naive, little sister wants in on the family business. She's running the empire with bigger balls than all the other masculine macho men around her. Watch the action unfold at the Stratford East; you'll not be disappointed.
Info: Dangerous Lady is at Theatre Royal Stratford East until November 17, 2012