Under a Foreign Sky, Unicorn Theatre
Published:

Wednesday, October 5, 2011 8:04

| Review by:

Abiola Lawal

|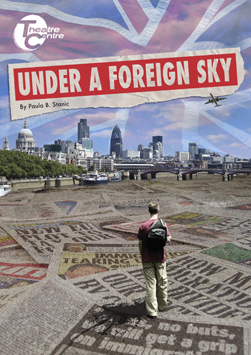 Under a Foreign Sky by Paula B. Stanic gives a gripping look at the first few steps an immigrant takes onto new soil. The play introduces us to Bojan, aged 19 who is keen to be the next Jamie Oliver, but with many obstacles to face before he can even find a bed to sleep in. Drina, 14, coming to join her mother in a new land with only a video camera connecting her to the place she once called home. And finally 12-year-old Ibi who arrives and simply disappears under terrifying circumstances.

The play is aimed at audiences aged 13 and up so is condensed into 70 minutes yet manages to interact with the audience so effectively that we get a great understanding of the difficulties faced by each character in trying to settle in to a new country and create a new home for themselves, how disconnected immigrants are not only from their native homes but also in their new foreign homes.

Through humour, sensitive dialogue, and the believable passion of Elma in her search for Ibi we are taken on a journey that deepens as it tackles the real issues of immigration, trafficking and second chances. Admittedly some areas of the play could be expanded on, especially as serious issues are being dealt with; however the dynamic performances of each cast member conveys the current issues faced by immigrants today.

The cast includes Simona Bitmaté, Geraint Rhys Edwards, Joanna Simpkins, Daisy Whyte and Miles Yekinni.
---
Related links
Info: Under a Foreign Sky is at the Unicorn Theatre until October 6 and at The Watermans on November 16.