The Colored Museum, Victoria and Albert Museum
Published:

Tuesday, October 25, 2011 11:46

| Review by:

Gillian Fisher

|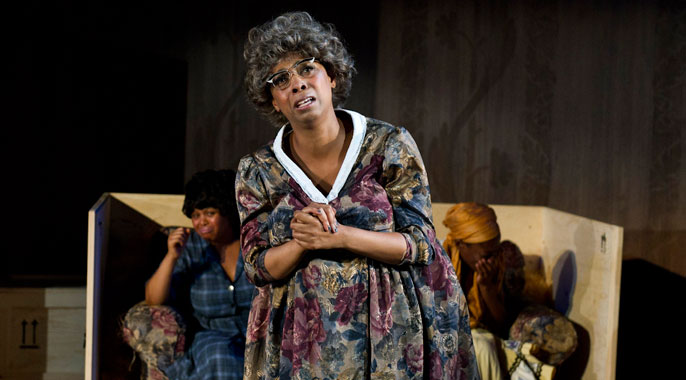 After a bumpy journey across the North Atlantic with complimentary shackles and a strict no drums policy the Celebrity Slaveship passengers alight in Savannah and the rest is very much history. Fast forward over 200 hundred years and cotton field anthems have inspired the genius of James Brown, William Faulkner has penned a series of acclaimed novels and Ebony magazine is full of people being black and fabulous posing with bottles of vodka. But beyond popular culture and academic theses how do the roots of the African American population inform the people of today, and have the drums really been silenced?

This Talawa Theatre company production of Colored Museum consists of a five player cast who perform George C. Wolfe's 1986 sketch based play with humour, passion and remarkable talent. Not only do these actors slip seamlessly into their multitude of characters they also demonstrate considerable singing skills. As we are introduced to various African American stereotypes from soul singer divas with skeletons in their closets to hefty overly religious mamas ensconced on couches, we question our own perception of what it means to be black as well as our tendency to categorise.

Laughter resonates throughout the theatre as we're introduced to Aunt Ethel's Down Home Cooking Show with lashings of sweet potato pie, or as we watch the Hairpiece sketch where the Afro wig argumentatively asserts her superiority of attitude over the swishing gesturing of the straight tressed toupee. Amongst the comedy infused farcical scenes are deeply profound sketches such as Symbiosis, where a businessman enters into a dialogue with his younger self as he throws away his converse trainers and first dashiki in his bid to disassociate himself from being a colour that's simply 'too emotionally taxing.' We also meet the fabulous snakeskin enveloped 'Snap Queen' Miss Roj, who encourages us all to dance away the pain of every atrocity faced in this urban jungle. For me the most poignant scene was Permutations, in which small town southern girl Norma Jean holds the future of her people protectively in her lap as she abounds with sheer love and hope.

The writing is cuttingly shrewd and the performances are excellent, the cast brazenly inviting the audience to play along and laugh at subjects considered unlaughable. A quarter of a century after its first production this play is still thought provoking and undoubtedly significant, although some of the references are sadly lost on an English audience, and the sketches occasionally go on a little too long after the punch has been packed. This aside, a hugely enjoyable and astute production that sends the audience away buzzing and with plenty of food for thought.
---
Related links
Info: Colored Museum was at the V&A from 15 – 23 October 2011