One Monkey Don't Stop No Show, The Albany
Published:

Wednesday, October 5, 2011 8:00

| Review by:

Amica Anselm

|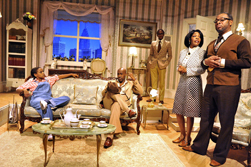 One Monkey Don't Stop No Show by Don Evans opens with lively music and outlandish dancing as the cast bursts onto stage with comical style, tempting you with what's on offer. The set, is made up of retro furniture and the significant "on air" sign aiding the concept of a live 70's broadcast show.

Myra (Jocelyn Jee Esien) and Avery Harrison (Roger Griffiths) preacher and preacher's wife, live with their geeky son Felix (Isaac Ssebandeke) collaboratively they are provide a belly busting, side-splitting play which rarely gives you enough time to catch your breath.

The plot unfolds around the death of Mr Harrison's brother which takes the audience on a jam-packed ride with political views, "shameful thoughts," sexual tension, and class construction or should I say misconstruction saturated in effortless American twang, that conclusively has the audience at the edge of their seats.

The drama escalates as the Harrison's, the most reputable middle class black family in Philadelphia is seized upon with an outspoken self assured niece Beverley Harrison (Ayesha Antoine). In search of inheritance and the owner of one third of her late fathers' club, cool, charismatic Caleb Johnson (Daniel Francis) Beverly's hunt creates an entertaining subplot. Captivating the audience on a turbulent journey unleashing characters like Mozelle who survives off uncommitted relationships, Back to Felix and his significant other Lil Bits who spends most of the time wondering why "my visitor has not arrived yet" bringing the play full circle whilst ending on an appraisable high note.
---
Related links
Afridiziak Theatre News interview with Jocelyn Jee Esien, One Monkey Don't Stop No Show
One Monkey Don't Stop No Show is at the Albany until October 8, 2011