Look to the Sky by Courttia Newland
Published:

Thursday, October 13, 2011 18:00

| Review by:

Abiola Lawal

|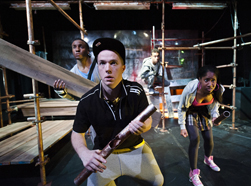 A gripping new thriller by writer Courttia Newland, Look to the Sky is a vibrant piece of new writing exploring inner-city urban culture whilst dealing with real issues such as drugs, relationships, family and trust from a young person's perspective.

The play follows the lives of three teenagers - Doubt (Kandace Caine), Obs (Ashley J) and Braun (Frank C Keogh), who enter an abandoned warehouse to search for a lost member of their group, Inno (Joe Jacobs). As the teenagers begin their search of the warehouse, they are forced to confront their past and the very thing that scares them most: themselves.

The characters bounce off of each other with a liveliness in their actions and language that is typical of the way teenagers interact with each other. The set is in itself representative of inner city life, cold, hard and resilient. The characters make great use of their working space replicating some of the moves used in the urban art form "free running"; which gives the play a vibrancy and energy that is straight out of the streets.

With great use of street vernacular the play brings the audience into a world that is sometimes very misunderstood, in fact the use of street slang is so good I did find myself losing track as you do when surrounded by teenagers talking amongst themselves. At times there are parts of the play that could confuse the audience, and not just by the slang, however the clear emotion and Newland's ability to tell a story gives us a theatrical experience that is at times harrowing and in essence very true - this is a play about the world of the teenage mind.
---
Related links
Info: Check out the LOOK TO THE SKY blogspot for further information and tour dates