Jerusalem, Apollo theatre
Published:

Thursday, October 20, 2011 4:54

| Review by:

Lindsay Johns

|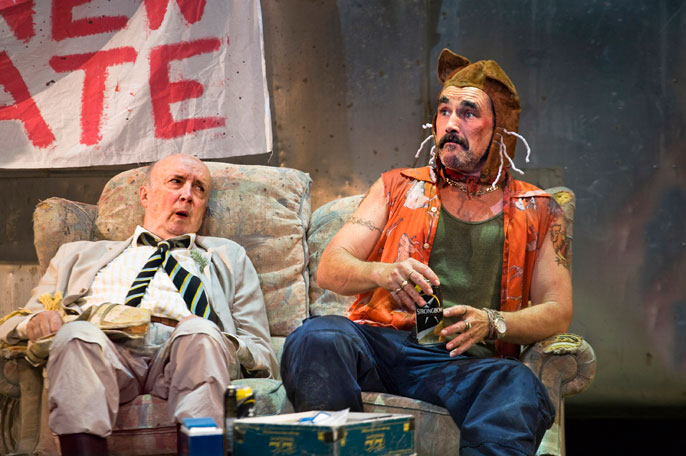 Jerusalem has officially left me devoid of superlatives. A mordantly funny paeon to 21st century English identity, (invoked by William Blake's seminal hymn), childhood, lost innocence and the perils of conformism in an age of cant, it is a titan of a play, fully deserving of this transfer to the West End after successful runs on Broadway and at the Royal Court.

Combining elements of magic realism, nods to A Midsummer Night's Dream and searching questions about our roles in society, Michael Gove needs to put this production on the national curriculum for the delectation and inspiration of every school kid in the country.

Maverick "pikey" and former dare-devil "Rooster" Johnny Byron is a protagonist for all time - an Englishman living on the margins of society in a Wiltshire wood. Mark Rylance gives a magisterial performance of assured brilliance (surely, in fact, the performance of several lifetimes). With rugged physicality, passionate humour and a sonorous West Country yokel's burr, Rylance both imperiously and effortlessly captivates the entire stage with mesmeric, mercurial intensity.

Sinister, drug-dealing paedophile and dead-beat dad or ageing, essentially good-hearted pied-piper, protecting children from the hypocrisy and spiritual torpor of stultifying, bourgeois provincial English society? Byron is a man of extremes and the tension which imbues his persona is deftly and gloriously captured by Rylance with wild eyes and minutely apposite gestures.

Impending eviction by the Wiltshire and Avon county council, arrest by the local constabulary and the threat of retribution from the step-father of a missing village teenage girl all function as the backdrop to a poignant, lyrical and philosophically profound examination of the way life ought to be, juxtaposed to how it really is.

The ceaseless, jocular badinage between Byron and his coterie of drop-outs, odd balls, eccentrics and non-conformists who are all trapped by the insignificance of their rural lives animates the play with a deep, tender passion. MacKenzie Crook is likewise superb as Ginger, the hapless, wannabe DJ friend of Byron and constant source of mirth.

A stunningly realistic set, complete with a panoply of trees, chickens and mobile trailer transport us to Byron's "bucolic, alcoholic, frolic" in a Wiltshire village copse, where the play's action unfolds on St. George's Day.

Butterworth's play is staggeringly well-written, with immense humour, yet combines great pathos and deep psychological veracity on all levels. Each character, be it the abattoir worker who lives for the hedonistic weekend orgy of "drugs and shagging" or the young man about to leave for Australia, emigrating to see the world and escape the parochial, crushing confines of the village, yet who then gets cold feet, articulates his dreams with plausible conviction. The playwright's joyous love for his characters and his manifold humanity are evident throughout. Incredibly, at a little over 3 hours, the crisp dialogue never flags, and the three acts are all equally well-balanced and remarkably taut, never indulgent or flabby.

The scene in which Byron recounts the tale of his meeting with a giant on Salisbury plain and the ensuing invitation for Ginger to bang the drum will doubtlessly be enshrined in the pantheon of legendary, timeless theatrical moments. Likewise, the bloody yet lyrical denouement is one of the most powerful I have ever watched in a theatre.

Butterworth has crafted a truly masterful play and Rylance, Crook et al inhabit the world of Flintock with such devastatingly convincing charisma, comic timing and panache that this is quite possibly one of the best plays of the last decade, if not more.

Beg, borrow, steal, pawn your gold rings or your bling bling to go see it!
---
Related links
Info: Jerusalem is produced in the West End by Royal Court Theatre Productions and by Sonia Friedman Productions. It is at the Apollo Theatre, Shaftesbury Avenue, London W1D 7EZ until 14 January 2012 | www.jerusalemtheplay.com