In My Shoes by Angie Le Mar, Soho Theatre
Published:

Friday, October 21, 2011 10:08

| Review by:

Amica Anselm

|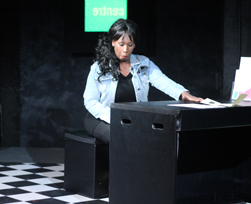 Walking in my winter heels I entered Soho Theatre more than aware that tonight's attention will be drawn to the feet. Knowing Angie Le Mar's customary style, which leans on the glamorous side, built an unavoidable preconception of what we were about to experience.

Le Mar ignited the show co devised and directed by Femi Elufowoju Jr, with Falushilah Falashilay the boisterous US soul singer who brought life to the dark stage. Surrounded by party girl shoes and her brazen comedic attitude, ironically intensifies during her time alone before fading out with song towards five other multifaceted characters.

A quick change of clothes and a tilt of a wig and Le Mar's entire demeanour locks the audience's gaze as a new character is born. With timid body language and a European exchange of dialect Rebecca Star, a wannabe model, plagued with diminutive self worth appears on stage and reveals her heart-breaking story at her local jobcentre.

With backing music and two screens in the backdrop the tone and scene is set, but is controversially empty without Le Mar schizophrenically drawing in and out of each character. Such as Valerie Simpson, a character who initially brings an ordinary tone to the theme, who suddenly catapults the audience into her personal seclusion through belly busting metaphors and animalistic similes that have viewers curling in their seats.

Dupree McKenzie stalked by his best friend's ghost throws you into darkness, whose soulful story is unveiled by the actions led by his feet. Samantha Hide another female character, but completely individual in her style and her muddled persona continuously fuels jokes and humour with her presence.

Le Mar takes the opportunity with her final character to turn the theme on its head with Charmaine Lawrence a lifestyle guru who presents herself with no shoes at all. Lawrence is a guest on the'Brenda Emmanus show,' complete with Emmanus's real voice over which created an element of surprise.

As each step of their story is unveiled, Le Mar places the audience into the shoes of each characer. Le Mar uses shoes as a crystal ball, like laces weaving through eyelets of a simple walking boot; she uses them to tie the show together. Angie Le Mar surpasses herself with an inspiring show that is diverse from what is obtainable in London theatres today. Le Mar brought a thrill of excitement to her one woman show, but be warned if you're seated on the front row then fabulous shoes and pedicured toes are strongly advised.
---
Related links
Angie Le Mar's In My Shoes is at Soho Theatre until November 5, 2011
Afridiziak Theatre News interview with Angie Le Mar
Angie Le Mar's official website
Do You Know Where Your Daughter Is official website
More on Angie Le Mar on Afridiziak Theatre News
Afridiziak Theatre News interview with Femi Elufowoju, jr