Driving Miss Daisy, Wyndham's Theatre
Published:

Thursday, October 6, 2011 8:19

| Review by:

Sophia A Jackson

|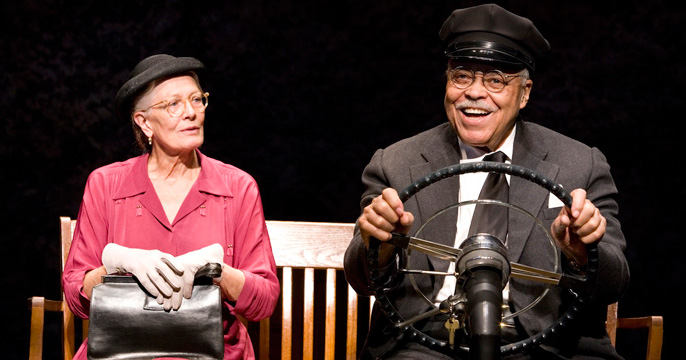 The Pulitzer-Prize winning play Driving Miss Daisy by Alfred Uhry will be remembered by many as the Academy Award winning film [1989] of the same name, starring Morgan Freeman, Jessica Tandy and Dan Aykroyd.

Now the box office and audience hit has transferred from Broadway to London's West End.

A stellar cast who hook you in straight from their opening lines leads this timeless classic about African-American chauffeur, Hoke Coleburn [James Earl Jones, 80], Jewish, Daisy Werthan [Vanessa Redgrave,74] and her son Boolie Werthan [Boyd Gaines].

Daisy is a cranky, control-freak and fiercely independent, and despite her age, the 72-year-old widow is reluctant to give up driving after a car accident. Her more liberal son employs Hoke convinced of his suitability based on his past employment record. Hoke is humble and gallant but doesn't let Daisy walk all over him and knows when to stand up for himself.

Daisy is not afraid to share her reservations at having an African-American in her house who she doesn't know as she makes plenty of assumptions and voices her prejudices. At first her relationship with Hoke is somewhat prickly but over time, almost two and a half decades in fact, she warms to him and in a touching moment, where it dawns on her that he's her only friend.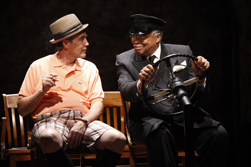 Talking of driving; although the 'car' is the prop used for many of the scenes it's actually just a wheel and the stage swivels when the car is in motion; it does work.
The success of this production is in the relevance of the various themes of the play and as Hoke says, things have changed but not really that much. There's not time to delve deep into social issues and race relations but the story does highlight the racism faced by African-Americans and Jews living in Atlanta during the time of the Civil Rights movement and Martin Luther King.

This bittersweet drama, which is essentially a tale of a blossoming friendship between two people who are growing old, packs a powerful punch in a short and snappy, interval-free 90 minutes.

All three of the cast give outstanding performances and I urge you not to miss this charming, thought-provoking, witty production, which is here for a limited period only.
---
Related links
Driving Miss Daisy is at on for a limited run at Wyndham's Theatre until December 17, 2011
The national US tour starts autumn 2012