Carnival the Musical, Royal Opera House Linbury Studios
Published:

Wednesday, October 12, 2011 17:38

| Review by:

Amica Anselm

|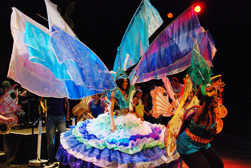 London's colossal Notting Hill carnival was significantly minimised onto a fundamental stage at the Royal Opera House to convey Carnival The Musical.

The story is of a young girl called Lauren whose main aspiration is to leave the carnival and flee her position as Carnival Queen. This youth musical reveals the relationship between carnival's historical values and modern day people through the duo created by the Carnival Queen and her street smart political but poetic companion Anton. Expressed through brightly coloured dancers with neon lights, live band and a multicultural cast reflecting the type of carnival we have today, the young cast made up of members of DreamArts arguably excuse the lack of expertise in vocal harmony and stage appearance.

With Lauren and Anton on an unsophisticated journey towards reaping the finances to pay off local loan shark Bookman, the two encounter close companions and a cringe worthy adaptation of Nicki Minaj. Filled with fear of loosing Lauren's headdress for good with the constant taunts of her grandmother's forced aspirations and dreams, they reluctantly stick together to gain a positive result.

Claiming to weave traditional carnival characters into the story, the archetypal figure such as baby doll a shoe fiend, money thieving young single mother debatably is a saving grace. Flinging an eruption of comedy and excitement on to the stage with her barefaced tune, lyrically enquiring, "Who's my baby fadda? You my baby fadda?" to the credulous audience who has an actual baby doll hurled at them. Actress Gina Adu made this musical a fun invention.
---
Info: Carnival the Musical was at Royal Opera House on October 9, 2011