The Meeting - by Jeff Stetson, Pleasance Theatre
Published:

Monday, October 4, 2010 20:31

| Review by:

Alicia Adejobi

|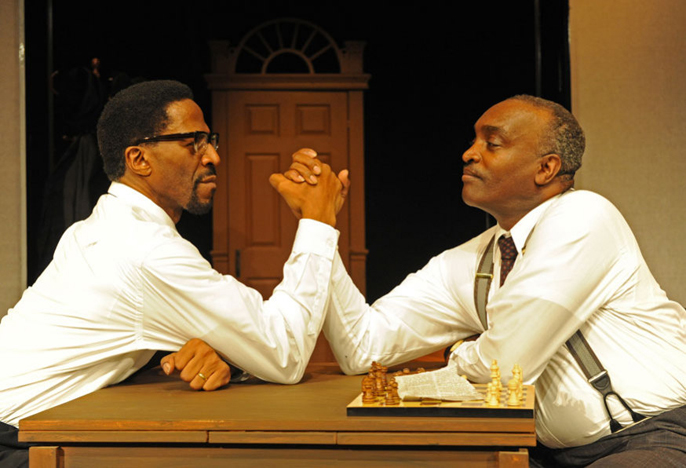 As I walk into the Pleasance Theatre in Islington, I am taken aback by the policemen armed with shields bellowing in my face to keep to the side. Confused, I wonder if the theatre has taken extra security measures, before quickly realising that it's part of the show. Creating an ambiance reminiscent of the conditions in the Sixties, the team behind The Meeting have set-up an insightful demonstration in the lobby of the theatre.

What ensues is an outstanding, heartfelt and intelligent play with a brilliantly written script and stellar performances. Set a mere few days before Malcolm X's brutal assassination, The Meeting -directed by Chuck Mike- depicts a fictional encounter between the Muslim activist and the civil rights movement leader Dr. Martin Luther King, Jr. The play sees both men use words to battle out their differing views on the ways of attaining freedom for black people.

It is evident the amount of hard work, emotion and passion both the lead stars Cornell S John and Ray Shell ploughed into depicting their characters. The casting couldn't be more spot-on with Shell's ability to mimic King's preacher-like dialect with impeccable precision, and John's striking resemblance to Malcolm. Lovelace Akpojaro fits like a glove in his supporting role, occasionally seasoning the play with a pinch of comedy.

While the educational aspect of The Meeting is interesting, the effortless chemistry between John and Shell gently lures you away from the facts and immerses you in all the emotions that Malcolm and King most likely felt at the time.

It is sad to know that two of the men who changed history were never around to know that they did. Although they notoriously had contrasting views on the liberation of African-Americans, the one thing they hopefully did know is that they both wanted the same conclusion - freedom.
---
Related Links