The Charming Man, Theatre503, Battersea London
Published:

Monday, October 25, 2010 10:19

| Review by:

Uchenna Izundu

|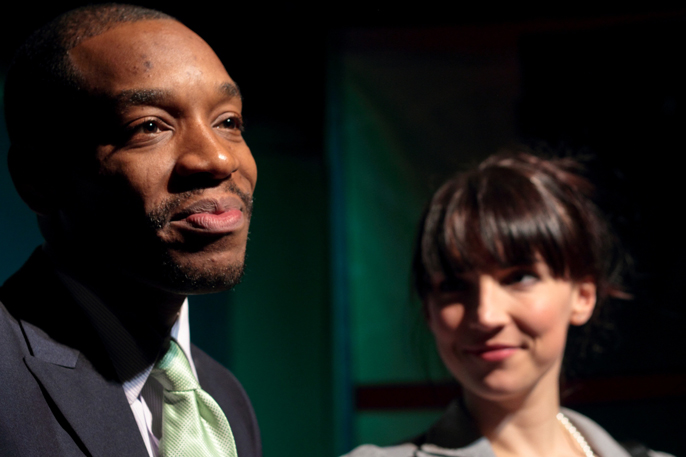 With a coalition government pressing the biggest public spending cuts since the Second World War, the question is ripe as to whether a political movement, such as the Green Party, could triumph in the 2015 general election.

Gabriel Bisset-Smith's political satire, The Charming Man, explores this possibility with foul language and sharp wit that deftly flitters between realism and surreal. He swiftly navigates between the different types of language and behaviours adopted and conflicted in this backstabbing world – from political speeches to bigoted talk to street lingo.

It's 2015 and Darren, a black youth worker, comes to a community meeting hosted by the Green Party to seek support for his youth centre, which he believes is key to helping disaffected youth and reducing crime. His passion, ideals, and a winning smile prove to be attractive for Sarah, the poised power breaker leader of the Green Party, who is looking for something fresh to offer the electorate. But in this world of dirty tricks and dangerous egos, change will always come at a price.

For Darren this is denying that he's gay and the crux is squaring his personal beliefs against his political ones – a cost, which is incredibly high. The tone of the play is established from the outset with Marcus, Sarah's right hand man, having a drink with a possible Indian political candidate who could mark the makeover of the party: "Let me tell you that British politics is buggered."

Bisset-Smith's script, however, is fast paced with a couple of surprise twists so that although the audience's expectations are set up in how it will conclude, he offers a satisfying journey to that. All of the characters' differing agendas bring increased pressure and confusion to Darren who starts out honest and wanting to bring change only to find that he can't escape the machinations of the political system and the inversion of his beliefs. Marcus is smug, sneering and arrogant. Olivia, the militant party worker, is frustrated that Darren is not using radical means to implement change. Sarah is desperate to see her beloved, beleaguered party come into power and is prepared to sacrifice her leadership to attain this.

It is a strong cast which performs this piece. Christopher Brandon who plays South African Kenny Fox, the financial backer of the Green Party, is particularly strong – a sleazy and politically incorrect wheeler and dealer. He delivers memorable lines: "It's a slag in a bag – a sure thing."

But it would have been great for Olivia to have had richer character depth as her transition from an extreme type of political action into the heart of the Party is theoretically fascinating. Also as Darren's cold and distant relationship with his father affects his self esteem and perceptions, this too should have had a deeper texture. Neither does Bisset-Smith examine the intimate nuances of race and politics either – indeed at some points you feel as if it's been glossed over.
---
Related Links
The Charming Man is at Theatre503 until 13 November, 2010
Afridiziak Theatre News interview with Syrus Lowe, Overspill 2008