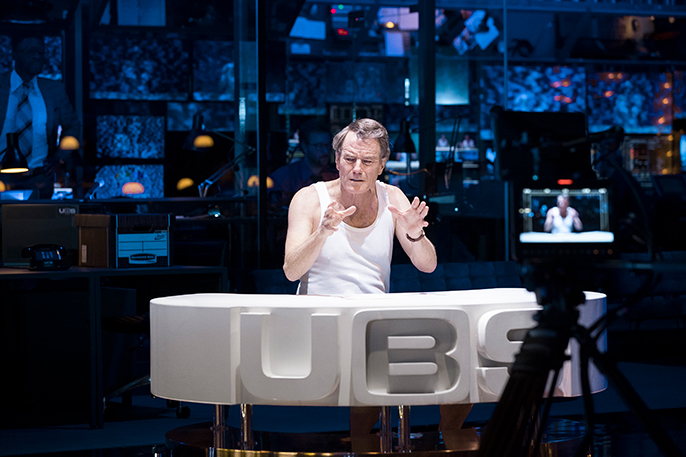 Science fiction and satire are literary, theatrical, and cinematic art-forms used to critique (often subversively) the current zeitgeist. Science fiction appears most relevant when real-life technology (the medium) appears to have evolved beyond our capacity to understand it; where only 'predictive techs' allegories are sufficient to – convincingly – 'join the dots'. Likewise, Satire is used when real-life events (the message) seem difficult to comprehend; humour being designed to 'lighten the darkness'.
This, presumably, is the reason for National Theatre's theatrical staging of the 1976 Hollywood movie "Network", for which Peter Finch received an Oscar for 'Best Actor', Faye Dunaway for 'Best Actress', and Paddy Chayefsky for 'Best Original Screenplay'.
This production's use of live camera footage, live streams, multiple TV screens, and real-life audience-members as onstage 'restaurant customers' point to the fact that a great deal of technical expertise has been thrown into the proceedings.
Although there are understandable temptations to 'looking back' in order to see 'where/who we are' – theatrically speaking, it can be a dangerous thing). While certain events may recur (society exists in waves, and is never a shore thing), others get overtaken, and can soon appear overused and cliché. Thankfully, Chayfsky's screenplay (adapted by Lee Hall) has just enough to say about the 'now'…if not, the 'here'.
Howard Beale – played by Bryan Cranston in the Peter Finch role – is a long-time news anchor, working for U.S. TV show U.B.S., in 1974. Whilst seemingly undergoing an on-air breakdown – or a 'moment of clarity' (take your pick) – he announces that he will commit suicide 'live on air, in seven days'. Needless to say, this gets him fired. However, his long-time friend – and ostensible boss – News Division President Max Schumacher (Douglas Henshall), agrees to allow him on air one last time, so as to make a dignified exit. Once on air though, Beale justifies his actions by claiming that he "'had no more bull****' left", and that life – either Man-made, or God-designed – "was bull****". Not much of an apology (!)
However, seeing a huge spike in viewing figures, the network – led by head programmer Diana Christiensen (Michelle Dockery in the Faye Dunaway role) – conspires to take advantage of Beale's new 'dark prophet' status. To this end, the ambitious Christiensen targets the married Schumacher as an ally; firstly, as part of her corporate strategy – then in a messy, extra-marital affair. The latter plot-thread – certainly in this iteration - seems weak, forced, and lacking in conviction.
Much stronger are scenes where Beale is allowed free-rein, as a 'modern day Nostradamus'.
Cranston constantly breaks the 'fourth wall', using his relaxed, understated charisma to transmit a fraying, 'Jack Lemmon-like Everyman' persona. This culminates in him taking a seat in the audience; beseeching those around him to do better, while the camera zooms out on a wide-angle. [Message: our lives may not be 'panning out' but - as the camera does so - we must recognize that we're 'all in this together'; well, most of us, at least].
Beale's infamous call-to-arms ("I'm mad as hell, and I'm not going to take anymore") has moved far beyond filmic folklore. However – in the context of the story – it is his on-air dissection and renunciation of one particular corporate takeover that proves his undoing.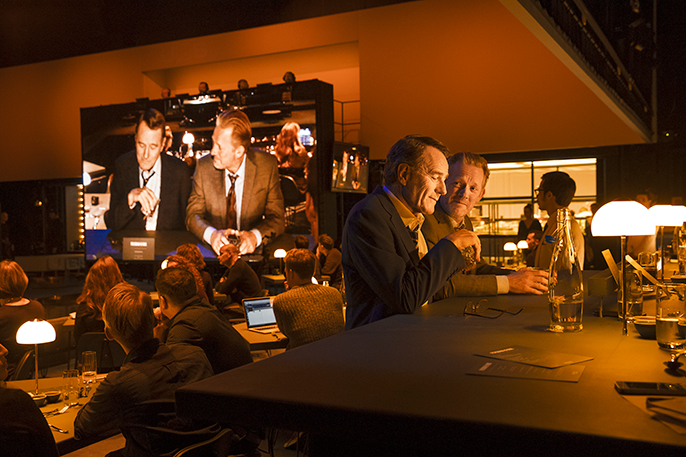 Well-deserved ovation for Bryan Cranston



But not before corporate deity Edward Ruddy (Michael Elwyn) reminds both Christensen and Beale that neither her constant search for 'better ratings', nor his evangelical desire to 'tell the truth on air' matter one jot. Herein lies the truly prescient beauty of Chayefsy's writing.
Ruddy's assertions - that 'the world is a business...there are no nations…no America…only currency' - seem to be 'right on the money'. Indeed, he goes on to say that "television is dead", and that the 'medium [of TV] is not the message…the medium is the ideas' (and their dissemination).
This is certainly borne out by recent events. The World - it seems - belongs, not to those with the most 'moral' - or even the most 'fact-based' - concepts and ideas; it belongs to those with the means to share their doctrines and agendas the most widely.
Whether via paper, radio, TV, or through the Internet; the medium is not as important as the ability and willingness to make one's message stand out amongst all others. This also fits in with how the public respond in stressful periods. In times of austerity and cultural upheaval, society – it is suggested – becomes 'post-factual'. As a result, the public is treated as cattle/chattel; we are then expected to engage with feelings, not thoughts… and certainly not researched information. In the wake of the U.K.'s Brexit issues and the U.S.' Trump scenario, we can see that what goes around, comes around again...and again...
The lighting and sound-design (an almost- constant hum) are well judged. However, despite the large cast and a small army of extras, the set seems both 'busy' and 'empty, all at the same time. There seems a vacuousness to proceedings; perhaps it's all part of the satire (!)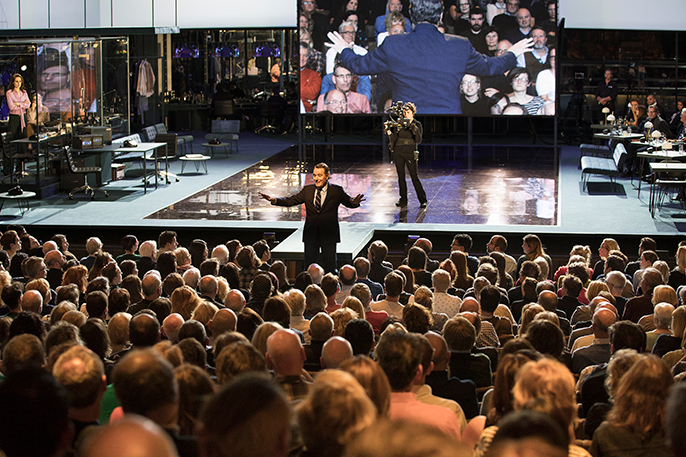 This production's use of live camera footage, live streams, multiple TV screens, and real-life audience-members as onstage 'restaurant customers' point to the fact that a great deal of technical expertise (and money) has been thrown into the proceedings. Unfortunately, the lack of chemistry, and emotional connectivity on stage - beyond the corporate rage - renders this production a 'zeitgeist late, and a dollar short' (!)
After the obligatory curtain-calls – and the well-deserved ovation for Bryan Cranston – there is an on-screen sequence showing the Presidential swearing-in ceremonies of each United States President since then-current President Gerald Ford. No prizes as to who – judging from the respective cheers and jeers from the audience - seemed to be the most (and least) popular.
And yet, here we are. It's enough to make you 'mad as hell'.
Info: Network is at the National Theatre until 24 March 2018 / book tickets (sold out apart from Friday Rush and Day Tickets)