The Royale – The Tabernacle

Words by: Abiola Lawal | Published:

Thursday, November 17, 2016 4:13 PM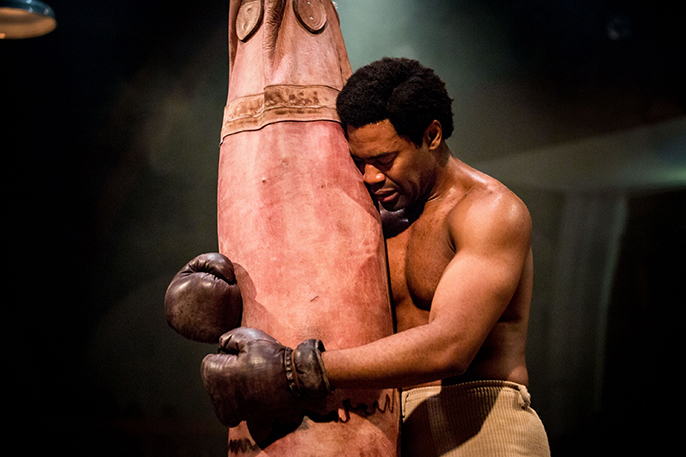 Set in 1905, Jay 'The Sport' Jackson, played by Nicholas Pinnock, dreams of becoming the first Heavyweight Champion of the world regardless of his race, he wants to break through that glass ceiling.
The Royale is engaging, theatrical and a wonderful lesson in American history, I recommend going to see it for the boxing alone.
A charming witty play, written by award-winning playwright Marco Ramirez, The Royale (see listing) is full of male bravado, sportsmanship and racial tension. Set around the boxing ring the audience are immersed from all four corners of the room and the actors on stage give us a strong, engaging performance. Madani Younis' direction is effective throughout the movement and cohesion of the characters, the energy of a boxing match is palpable in this play that is told in six rounds. The first round with Jay and young fish, Martins Imhangbe, is so alive and electric that I found myself almost cheering as if I was at an actual match.
Jay's hunger for that Heavyweight title is above any other reason or sense, it is not just his white opponent that he must fight but also other people's justified fears and unjustified prejudices, sports regulators, and the law as interracial fighting was illegal back in that time. He must also recognise his responsibility to those closest to him.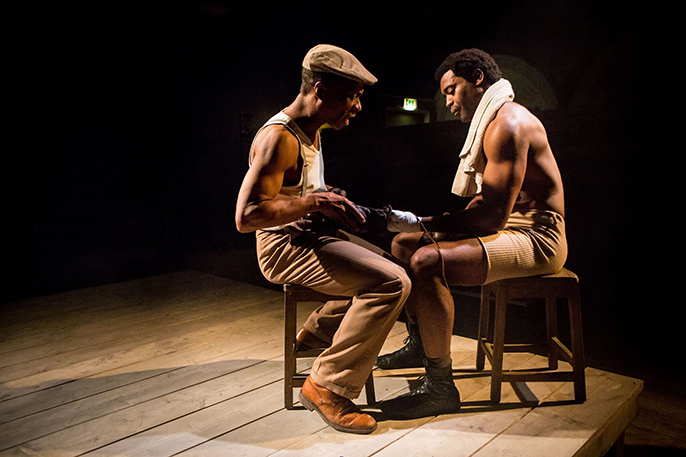 His sister, Nina played by Franc Ashman, is so fearful at what Jay's fight and possible win could mean for her family and all black people in America, as this fight is not just about him or the Heavyweight title. Her fears are understandable considering that this is the Jim Crow era and black people were regularly attacked, hunted and harmed. His sister's fears of the white man's retribution, which is and at that time always would be violent, is highlighted by the fact that unbeknownst to Jay his life has been constantly threatened at every match. Guns seized, knives found on audience members coming to not only spectate but also spread their hate. People wanted to kill him as he symbolised something that white people are still afraid of in America, people of colour winning. Ironically the morning after watching this play Trump won the Presidency and it hit me that this play is still relevant today.
America is still going through horrific racial divisions, although Jay may seem egotistical and selfish I understand that he must believe in himself before anyone else can. He had to be the first to break through to allow others to follow him. This play was engaging, theatrical and a wonderful lesson in American history, I would recommend going to see it for the boxing alone.