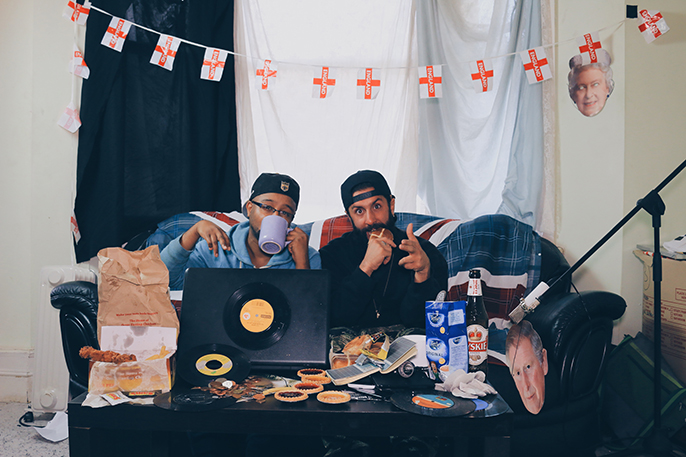 Highrise Theatre's dystopian vision of England in 2020 A.D is a clever amalgamation of character-based theatre, satirical skits, and a hip hop/grime concert. That it works as well as it does is due to the writing and performance skills of its two charismatic performers, Dominic Garfield (the Highrise artistic director) and Gerel Falconer.
In this age of social media where, for many, 'social involvement' is limited to the odd 'tweet' or 'like' – and where "Sharing" isn't what it used to be – this message is timely.
The (near) future depicted here includes crippling inflation, the dissolution of the N.H.S., and raised taxation (including ones placed on 'sugar' and 'ethnicity').
Theresa May ("…a diva – like Thatcher, but cheaper!") has achieved a second term, while Nigel Farage has returned from his four-year stint in the U.S., assisting President Trump, to co-lead the newly formed UKIP-Conservative coalition.
All of this creates a backdrop for, what has become, the ultimate consequence of gentrification in post-modern England: the lack of affordable housing. This housing crisis has caused whole communities to be displaced, the citizens being disbursed throughout the country – or having to flee to still-Euro-centric Scotland.
Merryville, being the last 'affordable' housing block in London, is where we find Dr. Green Fingers (Garfield) and Dustin Roads (Falconer). These two fictional activists share a two-bedroom flat with four other (unseen) tenants, and – in between working two jobs to make ends (almost) meet - use their M.C skills to raise awareness of the regime's inequalities.
Having had a public order ban placed on them by the 'Riot Control Unit' (R.C.U.), they are banned from performing in public; hence 'this' concert, set in Merryville's basement.
As audience-members, we are then projected into the future, to join with the two performers in a game of 'hindsight/how did we get here?'
For the most part this works well, not least due to the quality of the writing, on-stage chemistry, and charisma.
The 'songs' – all grime-based – are lyrically well constructed, if sometimes a little repetitive in their 'verse-chorus' structures. I mention this last point because – despite most of the tracks possessing identifiable hooks, there is a paucity of 'hummable melodies'. Perhaps – as a major difference between Hip-Hop and Grime – this is the point.
Being designed as a 'live show', there is some room for between-song banter, audience participation, and occasional extemporisation. Delivered with energy and humour, this approach allows for some 'up-to-date' political commentary (e.g.; Hilary Clinton's emails). For the most part, though, the two performers flow from track to track.
So we get state-of the-nation addresses, such as "Eviction Notice", "Goin' up", "Our manifesto", and "Our revolution", all delivered with energy, humour, skill, and inventiveness (the Bob Dylan-circa 'Subterranean Homesick Blues'-inspired "Roger the squatter" was a theatrical highlight).
The beats – by Oliver 'Row. d Beats' Reed, Duncan 'Skeng Daddy' Burton and Simon 'Dramatics' Revill – are heavy, and suitably authentic. Thankfully, the tracks weren't allowed to obscure the lyrical content. Kudos, then to Cai Taylor and Duncan Burton on sound and – just as importantly - to the two performers; Garfield's sonorous delivery dovetailing well with Falconer's tenor register.
If a rush into the character-based denouement is a little jarring, it is compensated for by virtue of Falconer's touching spoken-word exit. In it, he looks at himself and asks whether observing – and writing about - what's going on in society is truly enough, or whether – in order to make a difference – one has to be 'out in the streets' protesting.
In this age of social media where, for many, 'social involvement' is limited to the odd 'tweet' or 'like' – and where "Sharing" isn't what it used to be – this message is timely.
Brimming with ideas – and using the current musical lexicon (Grime) - this piece is designed to resonate with young urbanites, as well as the older 'I Have A Meme' (IHAM) generation; let's hope it connects before the nightmare takes hold (even more).
Info: Merryville is at Camden People's Theatre until 5 November 2016 / See listing